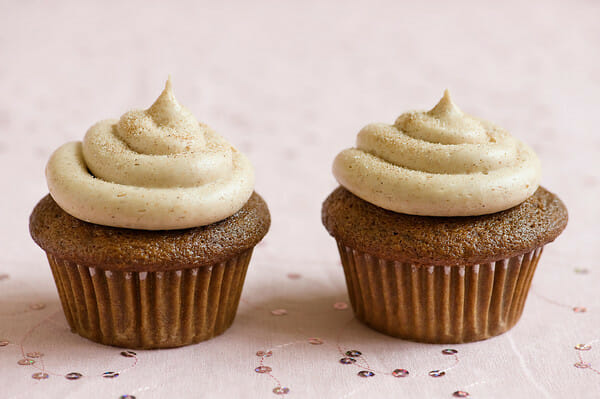 2¾ cups flour
3 tablespoons ground ginger
2 teaspoons baking soda
1½ teaspoons ground cinnamon
½ teaspoon ground cloves
½ teaspoon ground nutmeg
½ teaspoon salt
10 tablespoons butter at room temperature
1 cup packed dark brown sugar
3 large eggs, room temperature
1¼ cups molasses
1 cup hot water
4 tablespoons butter at room temperature
4 cups confectioners sugar, sifted
¼ teaspoon vanilla extract
6 ounces cream cheese at room temperature
2 teaspoons ground cinnamon
Cinnamon sugar for topping
1. Preheat the oven to 350. Line a standard cupcake pan with twelve paper baking cups. (Note: The original recipe calls for a 12 cupcake tin but I ended up with enough batter for 16 cupcakes, so you might have an additional pan ready as well!)
2. Sift together the dry ingredients except for the brown sugar and set aside.
3. Cream the brown sugar and butter together in a mixer for 3-5 minutes or until light and fluffy.
4. Add the eggs one at a time, beating well after each addition. Add the molasses, mixing until well-incorporated.
5. Add one third of the dry ingredients, followed by ⅓ of the water and mix thoroughly. Repeat, scraping down the bowl as needed. Add the last of the dry ingredients and the water and mix thoroughly. Batter will not be that thick - don't worry!
6. Scoop the batter into the muffin cups using an ice cream scoop and filling almost to the top. Bake for 15-20 minutes or until a toothpick inserted into the center comes out clean (start checking at 15 minutes.) Transfer to a rack and cool completely.
Place all ingredients in a mixer fitted with the paddle attachment and beat until well-combined. Frost cupcakes with a knife, or with a frosting bag fitted with a large round tip. Sprinkle lightly with cinnamon sugar.
Recipe adapted just a little from THE CUPCAKE DIARIES