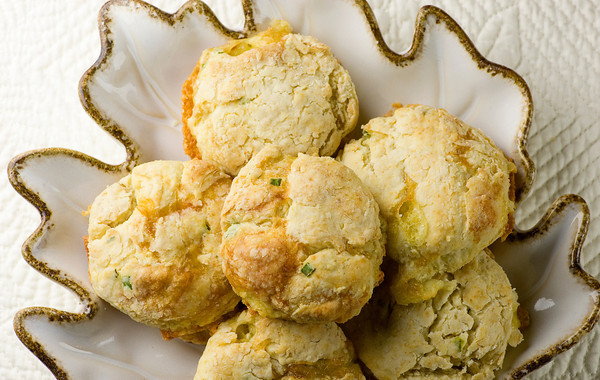 There's something about biscuits that is so comforting.  Warm, savory, soft biscuits…they taste like everything's right with the world.  Now, plain old biscuits are just fine with me, and I will happily eat one every time it's offered to me.  (Or two.  Or, um, three.)  But if you add a little something extra to them…say some creamy brie cheese and some spicy chopped chives…well, THOSE are biscuits you really want to savor.
Which brings me to something I wanted to tell you about…something the Southern husband and I have been trying to do over the past weeks, and that is savor our supper.  As you can imagine, there's a lot of adventurous eating that goes on in my kitchen as I both make up and test new recipes, and luckily for me I live with both a guy and a dog who are up for eating pretty much everything.  But there was only one hitch.  I would spend a million years in the kitchen cooking up my latest attempt at short ribs, it would come out just the way we hoped, we would set the table and light the candles and dish it out…and ten minutes later it would be gone. Gone!    Like it never happened!  Now don't get me wrong…that is a sign that supper was a success…but still.  Then I ran across this book.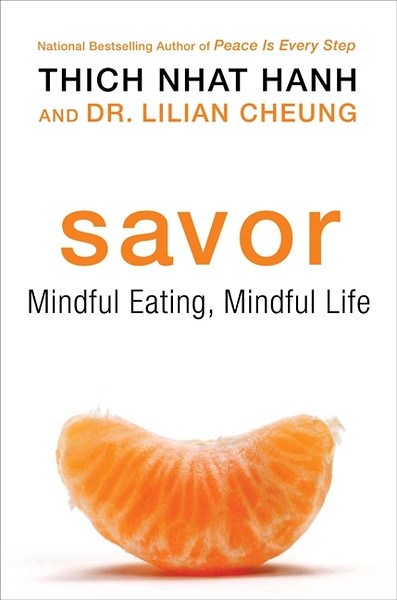 And as you might guess from the cover, it had a lot to say about not eating your supper in ten minutes while simultaneously watching the latest episode of Mad Men or talking about your tax returns or answering the phone (guilty as charged on all counts).  It suggested that supper is a wonderful thing that should be eaten slowly.  Reverently.  QUIETLY.  Did I mention slowly?
So we gave it a shot, and for a bunch of dinners we didn't watch television, we didn't have Jason Aldean cranked up on the Ipod (sorry Jason)…we didn't even talk.  We just ate.  We paid attention to the fact that if you concentrate on the fact that you have a mouthful of biscuit that has creamy pockets of melted brie cheese and is flecked with chives, it tastes even better than it does when you are debating whether or not it's time to change the brake pads on the car.  Unbelievable, I know, but true.
I won't say that we are spending every suppertime in reverential silence, but we HAVE slowed down a little.  We are definitely savoring more than we were.  The dog, however, is still wolfing down her dinner like it is going to evaporate at any second.
So!  In case some of you might like to savor along with us, I am giving away two copies of this great book.  And as usual, here's how it works:  All you need to to is head on over to my Framed Cooks Facebook page by clicking here, and click the Like button, and then come on back here and leave me a comment telling me you liked it.  And if you have already liked it, leave me a comment telling me that too.  And if you aren't a Facebooker, leave me a comment telling me how you shared Framed Cooks in whatever way you like.  Pinning, Stumbling, Emailing – I love 'em all.  Then on Sunday I'll post up two lucky winners of Savor.    And in the meantime, you might want to savor these biscuits!  They are definitely worth it.
Brie and Chive Biscuits, from Real Simple
Print
Brie and Chive Biscuits
---
Yield:

16 biscuits
Ingredients
2 cups all-purpose flour, spooned and leveled, plus more for the work surface
2 teaspoons baking powder
3/4 teaspoon kosher salt
1/4 teaspoon baking soda
6 tablespoons cold unsalted butter, cut into small pieces
6 ounces Brie, cut into 1⁄2-inch pieces (including the rind)
2 tablespoons chopped fresh chives
3/4 cup buttermilk
---
Instructions
Heat oven to 375° F. Line a baking sheet with parchment paper.
In a large bowl, whisk together the flour, baking powder, salt, and baking soda.
Add the butter and, using a pastry blender or your fingers, cut in until crumbly.
Add the Brie and chives and toss to combine. Add the buttermilk and stir just until moistened (do not overmix).
Transfer the dough to a lightly floured surface. Knead it a few times to bring it together. Gently shape into a 1-inch-thick disk. Using a 2-inch round cookie cutter (or a small glass), cut out 16 biscuits (flouring the cutter and reshaping the scraps as necessary). Place on the prepared baking sheet.
Bake until golden, 15 to 18 minutes.