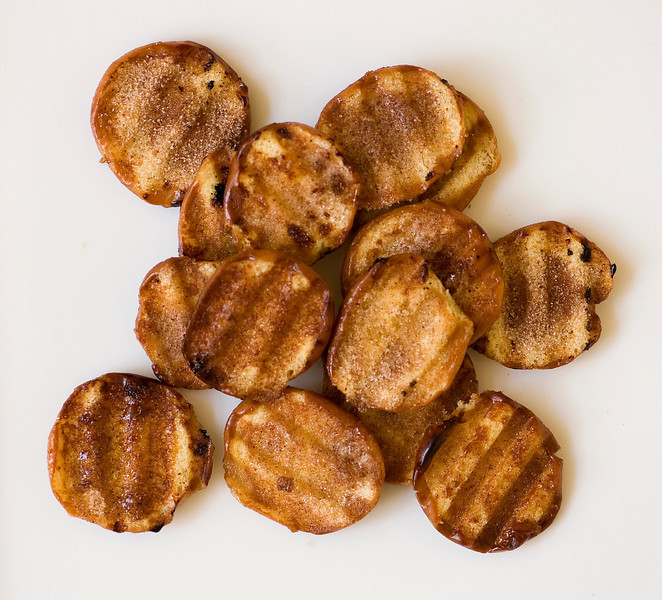 Here's how it all happened.  We were driving by the local Dunkin Donuts, and the car somehow turned into the parking lot, and I somehow got out and somehow bought a 25 pack of glazed Dunkin Donuts munchkins.  You know…the soft, squishy kind with the shiny sugar coating on the outside.
The next thing I knew, I was in my kitchen cutting them in half and sprinkling the cut side with a healthy dose of cinnamon sugar.  Then before I knew it, I was heating my panini press up to 375 degrees (about medium on the heat setting) and very carefully placing the donut halves cut side up on the press.  Then I put the lid down and toasted them for exactly 40 seconds.
When I opened the lid, they had transformed into flat, chip-sized versions of their former selves.  The sugar had caramelized on both sides.  I scooted them off the press and onto a cookie rack until they were completely cool and crisp and addictive.
And then suddenly, they were gone!  I might have thought the whole thing was a dream, except that I distinctly remember the Southern husband having a fine old time cleaning the hardened melted sugar OFF of the panini press a few hours later.  Luckily, I had some donut chips for him afterwards to make it up to him.
The end.  Except for the recipe.  

Donut Chips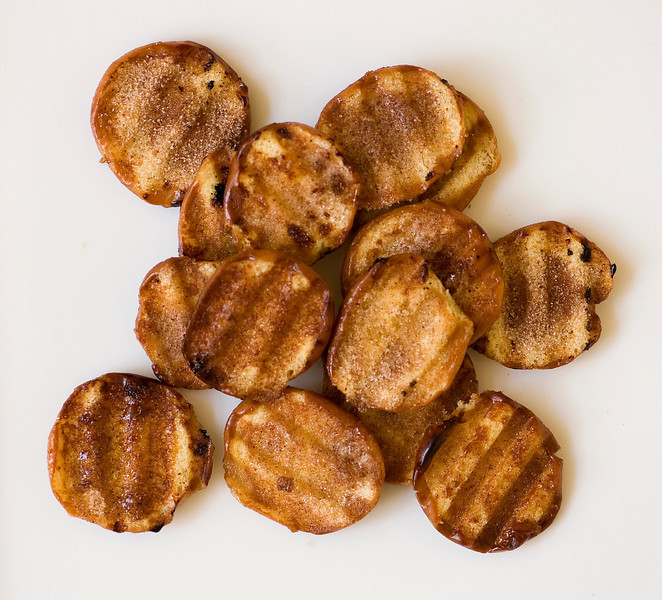 Ingredients
25 soft glazed donut holes (I used Dunkin Donuts Munchkins)
1/4 cup cinnamon sugar
Directions
1. Preheat panini press to 375 degrees, or medium on the heat setting
2. Cut the donut holes in half and sprinkle the cut sides liberally with cinnamon sugar
3. Place the donut halves cut side up on the panini press. (You will have to do this in batches, they won't all fit at once.) Close the press, push down lightly and toast for 40 seconds.
4. Open the press and quickly scoot the chips onto a rack to cool. They will get crispier as they cool.
NOTE: Clean-up of the panini press will be a little easier if you get some of the melted sugar off of it while it is still hot. Take a big wad of paper towels and VERY CAREFULLY wipe down the press. It won't get all the sugar off, but it will make getting the rest of it off easier once the press has cooled down. Trust me, the donut chips will be worth the panini clean-up. :)
Recipe inspired by Doughnut Chips recipe in CHRISTMAS WITH SOUTHERN LIVING 2011