This easy recipe for chicken parmigiana is one of many great ones from the cookbook Food From My Frontier by the Pioneer Woman!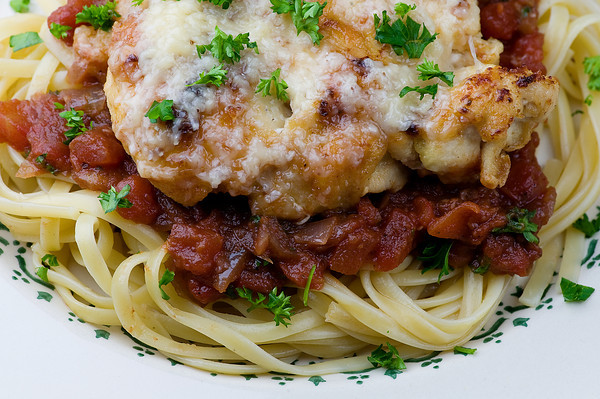 Okay, I promised when I kicked off this spiffy new blog design that we were going to do some celebrating, and here it comes!  The best way I know to celebrate some blog newness is by giving away some cookbooks…and so I'm going to give away some cookbooks!  And I'm going to start off by giving away the newest one from Ree Drummond, the wonderful writer, photographer and fabulous cook who has inspired so many of us to try this whole blog thing.  And while I'm giving away her book, I'm also going to share my take on her fabulous, fabulous chicken parmigiana.
First her new book.  After having made pretty much everything from her first cookbook, THE PIONEER WOMAN COOKS, and having those things come out perfectly (how many cookbooks can you say that about?) I was counting the days until I got my mitts on her new one, FOOD FROM MY FRONTIER.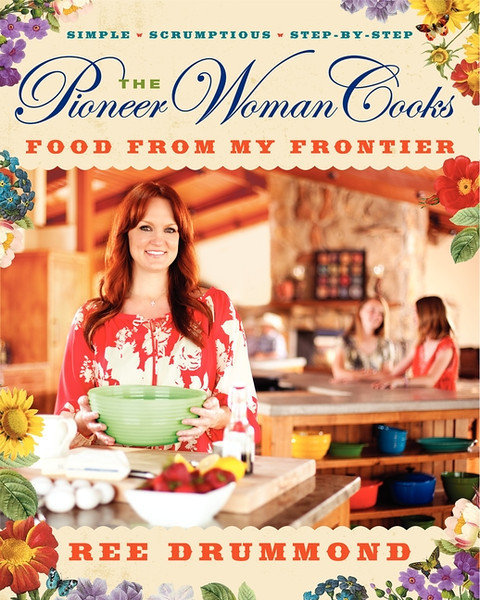 And after a quick trip through this book, I can already see that I am in for more deliciousness. Whiskey Mustard meatballs.  Malted Milk Chocolate Chip Cookies. Spicy Dr. Pepper Pulled Pork.  Is your heart beating faster??  Mine is!!  So, here's how it works.  Go on over to the Framed Cooks Facebook page (click here) and Like it, and then come on back to the blog and leave me a comment telling me you liked it.  (And if you've already liked it, bless your heart and leave me a comment telling me that too.  And if Facebook just isn't your thing that's okay – tell me if you have pinned, or tweeted, or emailed one of my posts, and you're entered!)  Then next Sunday I'll randomly pick two winners and send them not only this fabulous cookbook, but I'll also send a copy of Ree's adorable children's book, CHARLIE THE RANCH DOG.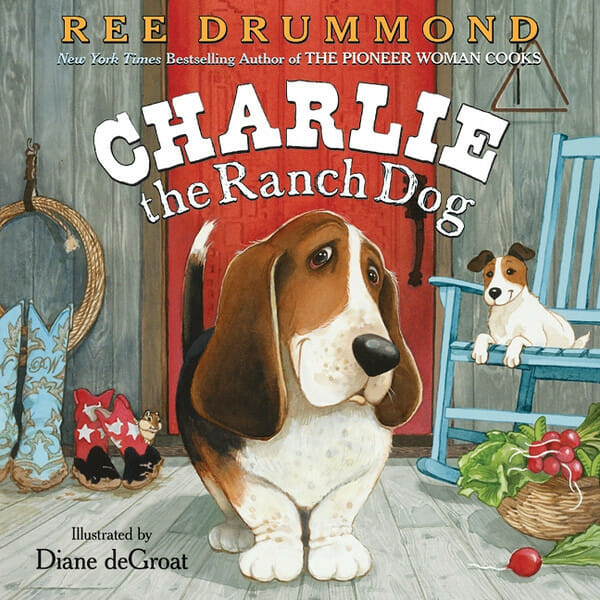 Oh, the adoreableness!!  And on NEXT Sunday's post I'll announce the winners and announce the next cookbook giveaway.  I'm gonna keep this going until I think the blog newness has been good and celebrated.  So there.
Meanwhile, back at the recipe…here's the reason I adore this one so much: it's chicken parm that is actually made with actual parmigiana cheese.  Usually you find this dish made with pounds and pounds of mozzarella cheese, and don't get me wrong…I love and adore mozzarella.  But deep in my heart I think chicken parmigiana should be made with, well, parmigiana cheese.  Call me crazy.  And that's what this one does.  Because of that, the cheese topping doesn't overwhelm the chicken and the sauce, it just gives it the perfect amount of cheesy wonderfulness.  And that in itself is worth a celebration!
So like my page, leave me a comment and in the meantime if you make this chicken parm, you'll already be a winner!  Whoo-hoo!
*Contest is now finished, but you can still enjoy the chicken parmigiana!*
Print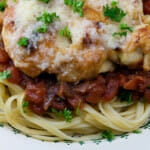 Chicken Parmigiana
---
Ingredients
4 boneless, skinless chicken breasts, pounded until they are about 1/2 inch flat
1/2 cup flour
1/2 cup olive oil
2 Tablespoons butter
1 medium onion, chopped
4 cloves minced garlic
3/4 cups red wine
3 14. 5 ounce cans diced tomatoes with their juices
2 tablespoons sugar
1/4 cup chopped parsley
1 cup freshly grated parmesan cheese
1 pound linguine or spaghetti
---
Instructions
Mix flour, salt, and pepper together in a large soup bowl. Dredge flattened chicken breasts in flour mixture and set aside.
Cook pasta according to package directions in salted water. While pasta is cooking, make the chicken and the sauce.
Heat olive oil and butter together in a large skillet over medium heat. When butter is melted and oil/butter mixture is hot, fry chicken breasts until browned, about 2 to 3 minutes per side. Remove chicken breasts from the skillet and put on a plate. Cover them with foil to keep them warm.
Without cleaning skillet, add onions and garlic and gently stir for 2 minutes. Pour in wine and stir to get all the cooked bits off the bottom of the pan. Cook until the wine is reduced, about two minutes.
Pour in tomatoes and stir to combine. Add sugar and cook for 30 minutes. Toward the end of cooking time, add chopped parsley and stir. Taste the sauce and add salt and pepper as needed.
Lay chicken breasts on top of the sauce and cover them in grated Parmesan. Cover the skillet and reduce heat to low. Simmer until cheese is melted and chicken is thoroughly heated, about 2-3 minutes.
Divide pasta among plates, and ladle sauce on top. Place chicken breast on top and sprinkle with more parsley. Serve immediately.
Nutrition
Serving Size:

4 generous portions