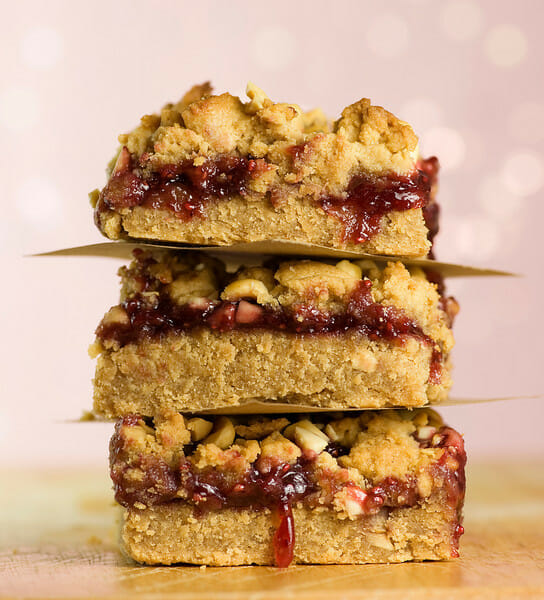 Peanut Butter and Jelly Bars
Ingredients
2 sticks unsalted butter at room temperature
1 1/2 cups sugar
1 teaspoon vanilla
2 large eggs
2 cups creamy peanut butter
3 cups flour
1 teaspoon baking powder
1 1/2 cups jam (your choice of flavor!)
1/2 cups salted peanuts, chopped into small pieces
Directions
Preheat the oven to 350.
Spray a 9x13 pan with cooking spray, line it with parchment paper, and then spray the parchment with cooking spray and flour it.
Cream the butter and sugar in a mixer on medium speed for about 2 minutes. Turn the mixer to low and add the eggs, vanilla and peanut butter and mix until combined.
Sift the flour and baking powder together. Turn the mixer back on to low speed and add the flour mixture until just combined.
Spread 2/3 of the dough into the baking pan, spreading to the edges (use your hands, it's easiest that way!) Spread the jam evenly over the dough.
Drop small chunks of the remaining dough over the jam. You'll have some spots where the jam shows through, but don't worry about that. Scatter the peanuts over the top and bake for 45 minutes or until the dough is golden brown.
Cool completely and then cut into squares.
Recipe adapted just slightly from Ina Garten's version [3]