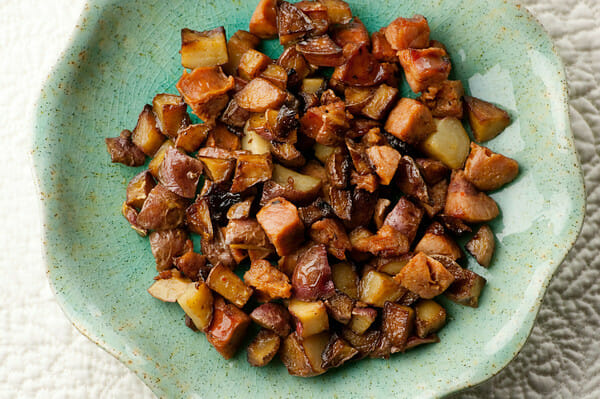 So, I am a firm believer in always turning over the box or the can or the inside of the label to see if there are any interesting recipes there.  Most of the time the answer is no…but every one in a while you come across a true gem.  
That's what happened with this particular dinner.  I bought a package of andouille sausage to use in something that I can't even remember (and for those of you who don't know what andouille sausage is, let me put it this way: a friend of mine describes it as sausage made by little Cajun angels.  It is spicy and delicious and perfect).  Anyway, I didn't use the whole package up, and lo and behold! on the inside of the wrapper was
a recipe for andouille sausage hash. 
Chopped up sausage cooked with chopped red potato and a variety of other good things until it is a crispy succulent mess.
Since I am also a firm believer of anything that has the word 'hash" in its title, it took me about 10 seconds to figure out my own spin on this and put it on our menu.  And while I was cooking it up I got a brainstorm.  What could make practically perfect andouille sausage hash totally perfect in every way?
Yep.  A poached egg.  A nicely poached egg when added to anything, including a bad day, will turn it just about perfect. 
So…always read the back of the box, and poach eggs.  Good things can happen from both!
Print
Andouille Sausage Hash with Poached Eggs
---
Ingredients
2 pounds red potatoes, cut into 1/2 inch dice
1 large onion, cut into 1/2 inch dice
1/2 stick butter
4 links andouille sausage, cut into 1/2 inch dice
1/2 teaspoon black pepper
1/4 teaspoon cayenne pepper
Salt and fresh ground pepper
Four eggs, poached or soft boiled and peeled
---
Instructions
Melt butter in large skillet over medium heat. Stir in potatoes and onions and saute for 15 minutes, stirring occasionally.
Add the sausage, black and cayenne peppers and saute another 5-10 minutes until potatoes are brown. Season to taste with more salt and pepper as needed.
Divide among four dishes and top each with a poached or soft boiled egg. Break the egg so the yolk spills into the hash. Breathe deeply and dig in.