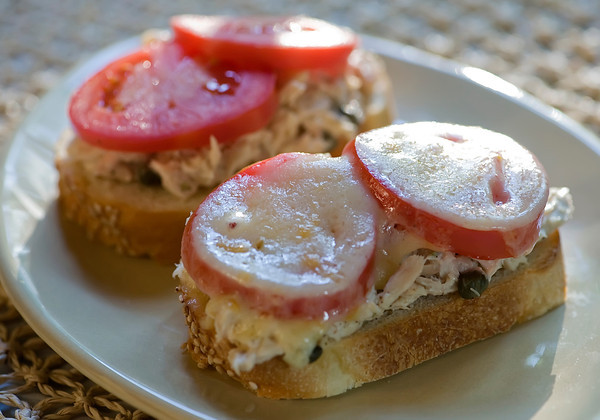 I have a weird relationship with tuna melts.  I pretty much forget they exist in the world until one day when I see them on a menu somewhere, and then I remember that I pretty much love and adore tuna melts.  Delicious tuna salad on soft bread, covered with cheese and then run under a broiler until the cheese is melted…why do I keep forgetting about them?  It's a mystery.
They are also one of those meals that are perfect when you are stuck on what to make for lunch or supper, because not only do they taste great, you probably have all the fixings right there in your kitchen.   Tuna, mayo, bread and cheese are the basics…that will get your your trusty old classic tuna melt.  But one of the great things about tuna melts is that you can go to town on the improvisation, depending on what you like (or don't like!)  Sure, regular American cheese will do you just fine, but any kind of sliceable, meltable cheese is fair game.  Cheddar, fontina, wwiss…the recipe below calls for provolone, which is heaven in my book.  As for the tuna itself, be as crazy as you want to be with the mix-ins.  Herbs, spices, onions, capers, chopped pickles, celery, you name it…you'll find a few of those below as well.  This recipe also tosses on a couple of sliced tomatoes.  I'm not sure why I didn't go ahead and add some bacon under that cheese as well, but you KNOW that would be good.
So please learn from my mistakes…give the tuna melt the love and respect it deserves.  It will love you right back!
Ingredients

4 (6-ounce) cans solid white tuna packed in water, drained

1/4 cup plus 1 tablespoon mayonnaise, plus more for spreading

1/4 cup finely chopped red onion

1 tablespoon plus 1 teaspoon capers, drained

1 tablespoon plus 1 teaspoon freshly ground black pepper

1 tablespoon fresh lemon juice

1/2 teaspoon salt

4 slices rustic white bread, or other dense white bread

2 medium tomatoes, sliced, or 8 tomato slices

4 ounces provolone cheese, thinly sliced

Directions

1. Preheat the broiler and position the oven rack about 6 inches from the broiler.

2. Combine the tuna, mayonnaise, red onion, capers, black pepper, lemon juice, and salt in a medium bowl. Stir until well mixed.

3. Arrange the bread slices on a work surface. Lightly spread each slice of bread with additional mayonnaise. Divide the tuna salad evenly among the 4 bread slices and top with 2 tomato slices each. Top with slices of provolone.

4. Place sandwiches on a sheet tray and place under broiler. Cook until cheese is golden and bubbly, about 5 minutes.