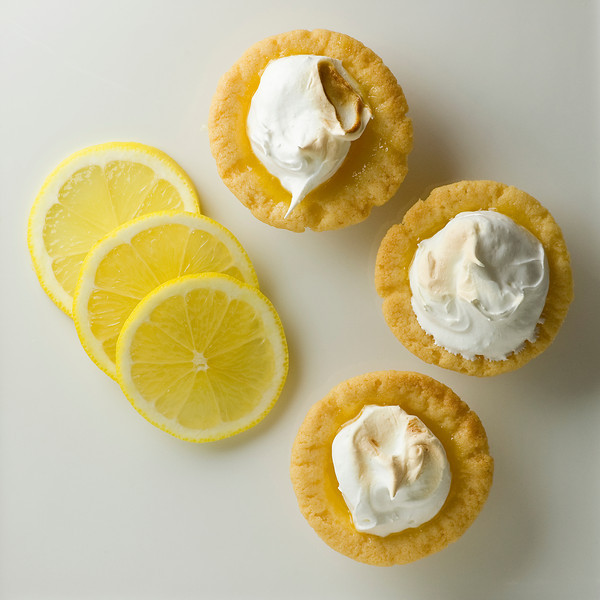 I woke up a couple of weeks ago with a burning desire to make some kind of a mini-dessert.  You know, not a full-on cake or pie (since it's only me and the Southern husband and the dog ever since the teenager deserted us to go to college), but a dessert you could hold in your hand.  So I went on my Framed Cooks Facebook page (click here if you want to check that out) and did a little survey: mini lemon meringue pies, or peanut butter and jelly bars?
As you may have guessed, the mini pies won in a landslide.  It wasn't even a tiny bit close, although the few voters for the pb&j bars were passionate in their support, and so I'll be making those sometime in the very near future.
Meanwhile, back at the little pies, here's what you need.  A tube of that pre-made sugar cookie dough you can get at the supermarket, usually next to the tubes of biscuit dough.  This is what you are going to use instead of piecrust.  Hurray!
Second, a jar of lemon curd, which is kind of like a smooth, rich, buttery lemon jam.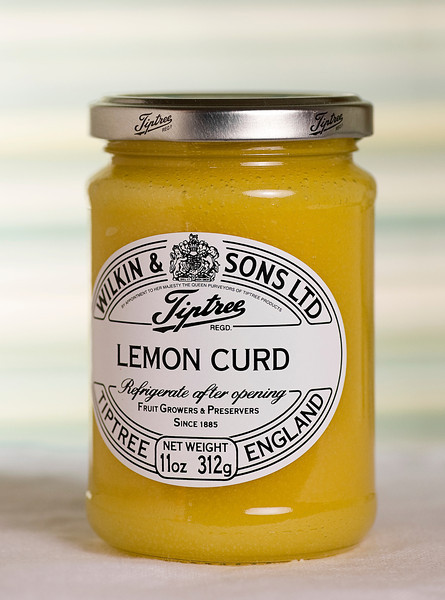 If you can't find lemon curd, you can substitute lemon pudding.  Lemon curd has a more intensely lemony taste, so that's what I went with.  And last, you need a few eggs, some sugar, and a little cream of tartar to whip up the meringue.Okay! Take a mini muffin tin (one that has 24 openings) and spray the heck out of it with Pam.  Now scoop two teaspoonfuls of sugar cookie dough into each opening and press it down and up the sides to form little cups.  Bake them for about 10-12 minutes at 350 – just until the edges start to turn golden.  don'tpanic (like I did) if they puff up in the pan and look like regular cookies – they will sink back down as they cool.  Let them cool for 30 minutes – if they aren't sinking obediently after 15 minutes nudge them down in the center a little with your thumb.  When they have cooled off, loosen them by gently turning the edges like you are turning a dial – this way they will pop out nicely later.
Now separate your eggs, give the yolks to your dog, and take the whites and beat them in the mixer until they are frothy.  Then add the cream of tartar, crank the mixer up to high, and beat the heck out of them for three minutes, adding the sugar one tablespoon at a time.  By now you have nice shiny thick meringue.
Next, put one teaspoonful of lemon curd in each cookie cup, spreading it to the side a little. Top each with about a tablespoon or so of meringue.  Now pop the muffin tin with your baby pies in the oven and broil it for about a minute – just until the meringue barely starts to turn gold in spots.  Take them back out, let them rest about 10 minutes, and you are done.  If you want to make them in advance, mine were perfectly nice later when we ate them during the Golden Globes.
Here's one of the finished guys when I bit into him. Isn't he adorable?
And here's what the insides look like under their scrumptious pillow of meringue…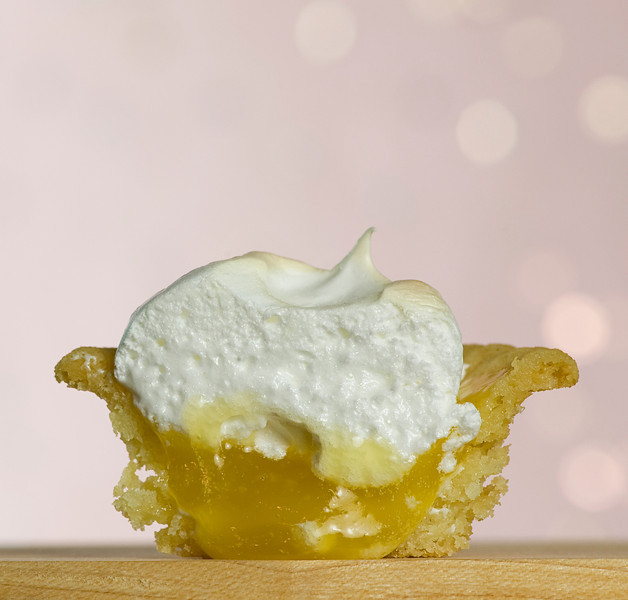 And one more with a lemon on the side, just to remind you how teeny they are, and why it is therefore perfectly okay to eat 4 or 5 of them in one sitting.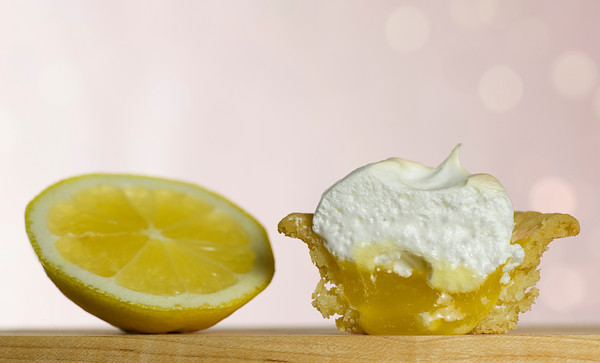 BTW, you will probably have leftover meringue batter.  Turn your oven on to 250, drop them onto a parchment paper-lined cookie sheet and bake them for two hours…they will be crunchy and perfect
This concludes my ode to mini lemon meringue pies.  I have to go make pb&j bars now.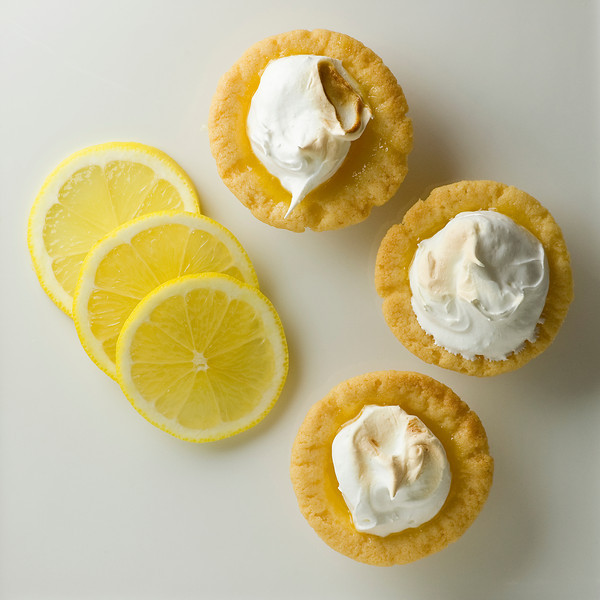 Ingredients

12 ounces refrigerated sugar cookie dough, chilled

3 egg whites, at room temperature

1/4 teaspoon cream of tartar

3/4 cup sugar

1/2 cup lemon curd or lemon pudding

Directions

1. Preheat oven to 350. Take a mini muffin tin (one that has 24 openings) and spray it with Pam. Scoop two teaspoonfuls of sugar cookie dough into each opening and press it down and up the sides to form little cups.

2. Bake them for about 10-12 minutes at 350 - just until the edges start to turn golden. Don't worry if they puff up in the pan and look like regular cookies - they will sink back down as they cool. Let them cool for 30 minutes - if they aren't sinking obediently after 15 minutes nudge them down in the center a little with your thumb. When they have cooled off, loosen them by gently turning the edges like you are turning a dial - this way they will pop out nicely later.

3. Separate your eggs, give the yolks to your dog, and take the whites and beat them in the mixer until they are frothy, about a minute. Then add the cream of tartar, turn the mixer up to high, and beat the for three minutes, adding the sugar one tablespoon at a time until the meringue is stiff and shiny.

4. Put one teaspoonful of lemon curd in each cookie cup, spreading it to the side a little. Top each with about a tablespoon or so of meringue. Return the muffin tin with your baby pies in the oven and broil it for about a minute - just until the meringue barely starts to turn gold in spots. Take them back out, let them rest about 10 minutes, and remove carefully from the pan.


Recipe from Peter Callahan's recipe