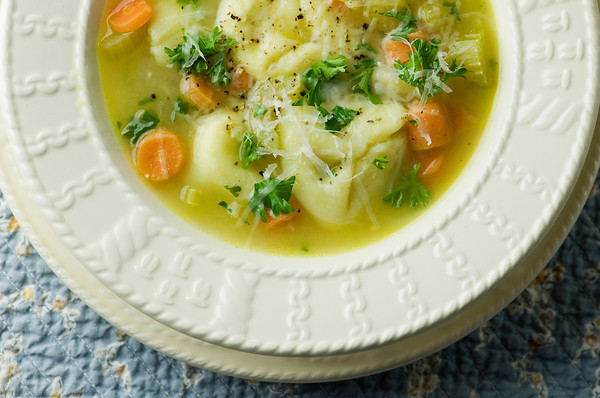 Ingredients
3 tablespoons butter
1 cup chopped celery
1 cup sliced carrots
1/2 cup chopped onion
10 cups chicken broth (Imagine or Pacific brand)
2 cups water
2 9-ounce packages tortellini
1/4 cup chopped parsley, plus extra for garnish
Salt and pepper to taste
1/2 teaspoon nutmeg
Freshly grated parmesan cheese
Directions
1. Melt butter in large saucepan over medium high heat. Add vegetables and cook for 10 minutes, stirring now and then.
2. Add broth and water and heat to boiling. Add tortellini, reduce heat, cover and simmer for 15 minutes or until tortellini is tender.
3. Add parsley and spices and simmer 5 minutes more. Ladle into dishes and garnish with cheese and more parsley and serve at once.