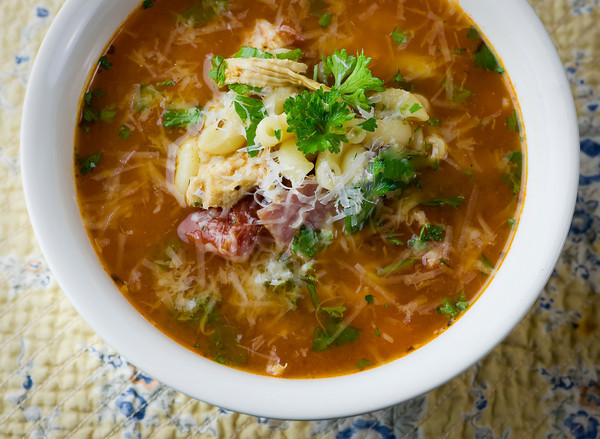 Okay, I promise this is the last soup recipe for a while.  The even better news is, I saved my favorite soup recipe for last.  I have had this recipe longer than I have had my dog, my house, my teenager, and almost everything else except for my Southern husband.  Yep, he's the only thing older than this soup, but you'd never know it to look at him.  It probably has something to do with the fact that the man cannot sit still.  Here's a picture of him from one of our vacations up in Vermont.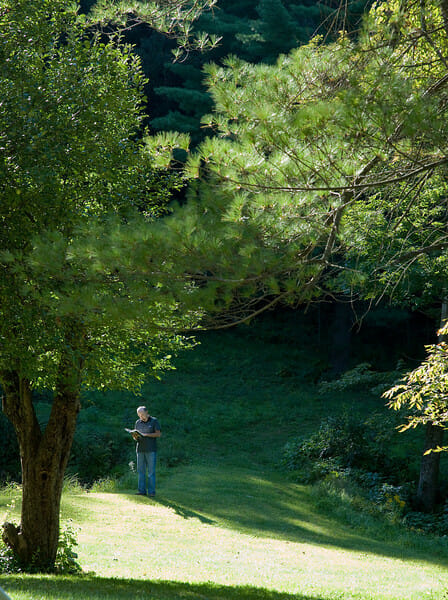 That's him.  Reading.  While walking around.  It's one of the many mysterious things that makes me crazy about the guy.  Among other things, it DOES keep him in tip-top shape.  But I digress!
This chicken macaroni soup is the perfect quick, hearty and still good for you soup-for-supper dish.  It's also great for a crowd, especially if you serve up some nice crusty bread on the side.   Make sure you get good chicken broth to make it with (I like the Imagine and Pacific brands, which come in a box, not a can).  It calls for elbow macaroni, but it also works equally well with any short pasta you have hanging around.  I frequently take this soup as a chance to finally empty out all those pasta boxes with teeny amounts of pasta still lurking in the bottom of them.
This concludes Soup Week on Framed Cooks.  I'll be back to my evil bacon ways next week.
Print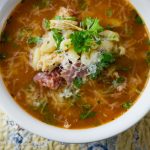 Chicken Macaroni Soup with Tomatoes
---
Ingredients
1 tablespoon olive oil
2 large garlic cloves, minced
1 teaspoon dried basil
1/2 teaspoon dried thyme
4 ounces cooked ham, cut into 1/2 inch cubes
2 tablespoons tomato paste
5 cups chicken broth (I like Imagine and Pacific brands)
1 cup white wine
3 large boneless chicken breast halves
1 cup drained chopped canned tomatoes
8 large pieces oil-packed sun dried tomatoes
1 cup elbow macaroni, cooked and drained
1/4 cup chopped fresh parsley
1/4 cup freshly grated Parmesan cheese
---
Instructions
Heat oil in large heavy pot over medium heat. Add garlic, basil and thyme and saute until fragrant, about one minute. Mix in ham and tomato paste. Add chicken broth and wine and bring to a simmer.
Add chicken, cover pot and simmer until chicken is just cooked through, about 15 minutes.
Use tongs to remove chicken to plate and let cool. Add chopped and sundried tomatoes to pot and simmer 5 minutes.
Shred chicken into bite sized pieces and return to pot. Stir in cooked macaroni and cook until heated through, about 5 minutes. Season to taste with salt and pepper.
Ladle soup into bowls. Garnish with parsley and cheese and serve.