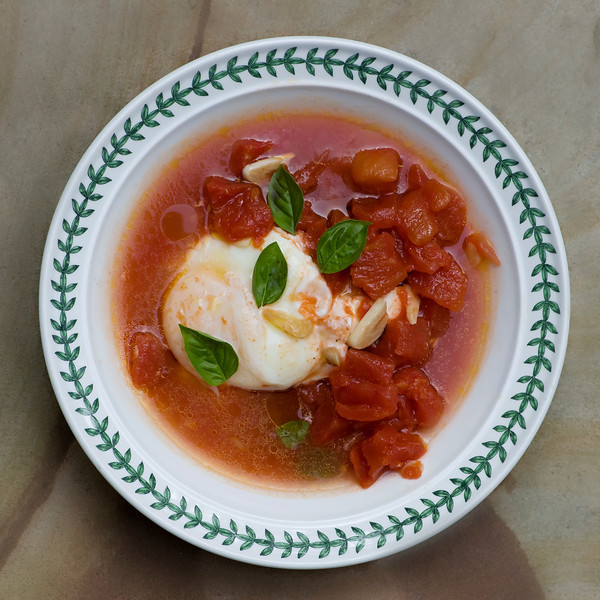 I don't know about you, but I pretty much think that there are very few things out there that can't be made better by adding a poached egg to them.  Poached eggs on top of mashed potatoes? Poached eggs on top of pasta with a little parmesan cheese?  A poached egg on top of…wait for it…a nice steaming hot bowl of Cream of Wheat?  Yes please, and thank you!Until I made this recipe, I think one of the few things on earth I hadn't put a poached egg into or onto was soup.  And I'm not sure why, because what that lets you do is actually poach the egg IN the soup.  So not only are you getting a poached egg in your soup, you are getting a poached egg that has absorbed a little of the delicious garlicky tomato soup as it is being poached.  It's just plain perfect, right?
And if all that wasn't enough, this recipe calls for toasting up a nice big piece of garlic bread and putting it in the soup bowl first, and then ladling the tomato soup with poached egg over it.  Drizzle a little good olive oil over the whole thing, toss a few basil leaves in if you've got 'em, and all is right with the world. You break into that nice poached egg with your spoon, and the creamy egg mixes with the soup and the soft garlicky bread and, well, you get the idea.  Poached eggs…they make everything wonderful!
Print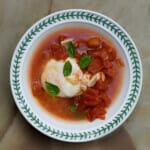 Tomato Soup with Poached Eggs
---
Ingredients
2 tablespoons extra-virgin olive oil, plus more for toast and drizzling
3 to 4 cloves garlic, thinly sliced, plus one clove for toast
Pinch hot red pepper flakes
1 28 oz. can whole peeled tomatoes, coarsely chopped, with juice
3 cups water
1 1/2 teaspoons kosher salt
1/4 teaspoon freshly ground black pepper
4 large eggs
4 slices rustic bread
Shredded basil, for garnish (optional)
---
Instructions
In a straight-sided skillet over medium heat, cook the oil, garlic, and pepper flakes until garlic is just beginning to turn golden, about 5 minutes. Add the tomatoes,water, salt, and pepper.
Bring mixture to a boil, then reduce heat to low and simmer covered for 10 minutes.
Crack one egg into a small bowl. Carefully lower edge of bowl into simmering liquid,allowing egg to slip into pot. Repeat with remaining eggs. Cover pot and cook until whites are cooked through, 3 to 4 minutes.
Meanwhile, brush bread with oil and broil until golden; rub with garlic. Place one slice in each of four shallow bowls; sprinkle with basil. Spoon soup and poached eggs over toast, drizzle with a little more oil, and serve immediately.