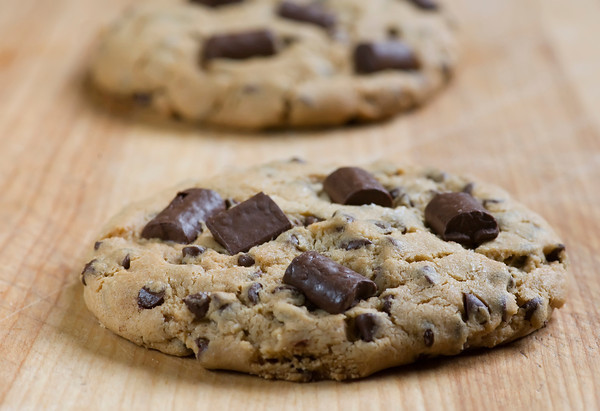 Tis the season of cookie baking!  And this time of year, the bigger and grander and merrier, the better.  This cookie recipe is a ridiculously good mash-up of a few of my favorite things: caramel, chocolate (and chocolate in CHUNKS, thank you very much), with a teeny bit of sea salt sprinkled on top to give them that sweet and slightly salty thing that drives me out of my mind.  In a good way.  Not in a how on earth am I going to get everything done before Christmas Eve way.
Anyway, this recipe comes from the Picky Palate site, which is always my first stop when I get a craving  for over-the-top desserts of any kind, and these were no exception.  The original recipe calls for making them in muffin top pans (yes, these are BIG cookies), but even with all the mountains of stuff I have in my kitchen, I didn't have a muffin top pan.  But did I let that stop me?  Goodness, no.  I just scooped them out onto cookie sheets in the vague shape of muffin tops, and they baked up just fine.
So, since we are in the season of holiday parties and cookie swaps and general chocolate-covered mayhem, if you are looking for a serious cookie, give these babies a try.  
Print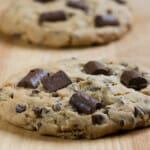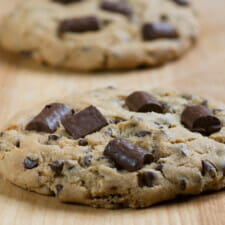 Salted Caramel Chocolate Chunk Cookies
---
Ingredients
2 sticks softened butter
3/4 cup granulated sugar
1 cup packed light brown sugar
2 large eggs
1 1/2 Tablespoons pure vanilla
1/4 cup caramel sauce
3 3/4 cup all purpose flour
1/2 teaspoon salt
1 1/2 teaspoons baking soda
12 oz bag mini chocolate chips
1 1/2 cups chocolate chunks or chunk-size chopped good quality chocolate
Sea salt
---
Instructions
Preheat oven to 350 degrees F. In a stand or electric mixer, beat the butter and sugars until well combined. Beat in the eggs and vanilla following the caramel sauce until well combined.
Place the flour, salt and baking soda into a large bowl; mix. Slowly add to wet ingredients then add the mini chocolate chips.
Place 1/4 cup of cookie dough on a cookie sheet. Press down then sprinkle with a pinch or two of sea salt then press chocolate chunks over top. Bake for 12-15 minutes or until just golden around edges. Remove and let cool for 5 minutes before transferring to a cooling rack.
From Picky Palate