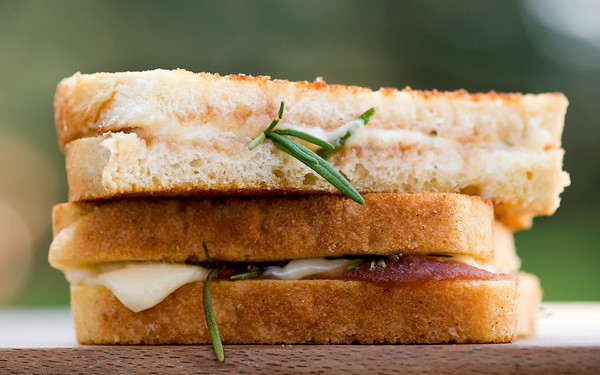 Mmmmm, grilled cheese sandwiches.  I love 'em.  Everything from the old classic American on white to my highest achievement in grilled cheese sandwich-dom, the Brie Croque Monsieur.  Oh, what a sandwich that was.  I still have dreams about it.
Anyway, I ran across this recipe on the very wonderful blog The Professional Palate, and not only did it look scrumptious, it called for apple butter.  For some reason, people tend to give me a lot of apple butter.  Which is perfectly fine, because I do like me some apple butter, but because of that I always have some in the house.  At this particular moment, the jar of apple butter I had in my pantry was this guy.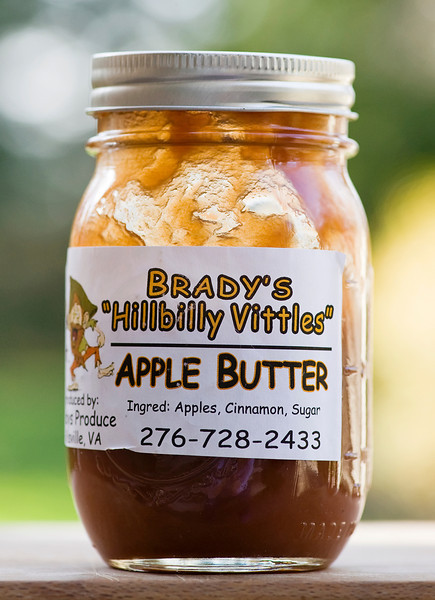 It reminded me of the Southern husband, so I decided this was a sign that I should make us these sandwiches for lunch last weekend.  That and the fact that I had all other ingredients hanging around.  That always has a big impact on what we have for lunch.  Dinner I plan ahead for…lunch, not so much.
It also calls for fresh rosemary, which I also have.  It's migrated inside now that it is chilly out at night, but here's the pretty picture I took of it last summer.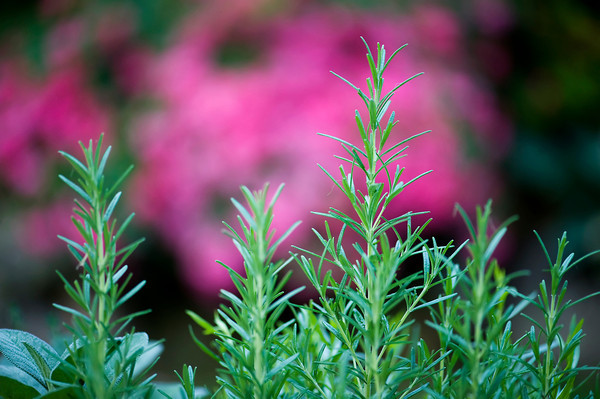 Bread, cheddar cheese, butter…ready to roll.  The original recipe calls for several kinds of cheese, and if I ever manage to be organized about lunch and plan ahead, I'm sure it is even better that way.  But I had my usual hunk of fabulous Cabot sharp cheddar in my fridge, so that's what we had.
Butter the bread on one side, and spread apple butter on the other.  Go easy on the apple butter, otherwise it will taste like an apple butter sandwich.  Put your cheese slices and fresh rosemary on the apple butter side, and pop them in a nonstick pan over medium to medium high heat.  Cook them slowly and lovingly until they are a beautiful golden brown, flip them over and repeat.  Let them rest a minute or so, so that you can cut them in half without all the cheese oozing out onto the plate, and there you go – perfect and different grilled cheese sandwich.  
Have I mentioned that I love grilled cheese?
Print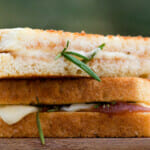 Rosemary Apple Butter Grilled Cheese Sandwiches
---
Ingredients
2 slices of your favorite bread
One teaspoon butter, softened
1 tablespoon apple butter
One teaspoon fresh rosemary leaves
Thinly sliced extra-sharp Cheddar cheese
---
Instructions
Smooth butter over one side of each bread slice; top other sides evenly with apple butter. Sprinkle rosemary over the side of the bread that is coated with apple butter. Top with sliced cheese and remaining bread slice, buttered side up.
Heat nonstick griddle over medium-high heat. When hot, turn down heat to medium and grill sandwich 5 minutes on each side or until golden brown.