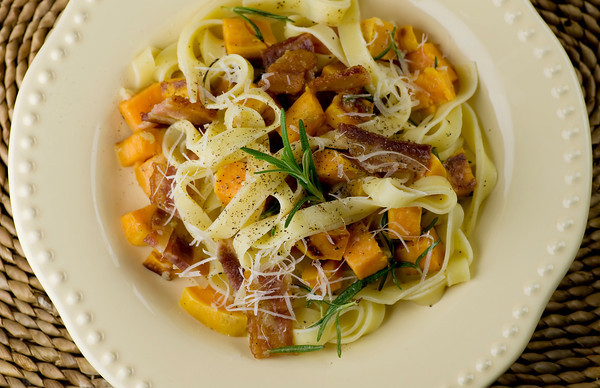 Okay, so today is my birthday.  It's a birthday that ends in a zero.  Which was wildly exciting when I turned ten, but let's just say I'm not turning ten.  And so I need bacon.  Not want.  NEED.   And pasta.   And I need you to eat some with me, and so here we go.
For this one you will need a sweet potato, and this seems like a good time to ask, does anyone REALLY know the difference between a sweet potato and a yam?  I've now reached the ripe old age of ?0, and I'm not really sure what the difference is…but I do know that when I made this baby I used a sweet potato and it turned out pretty delectably, and that's what matters most to me.
Anyway, peel up a sweet potato and dice it up into nice small pieces.  Smash up a couple of cloves of garlic, and cook the potato and the garlic in some olive oil until they are nice and tender.  Meanwhile, boil up a pot of your favorite pasta…I went for a nice wide fettuccine.  Make sure you scoop out a cup-ful of the pasta water before you dump it out, because it is going to help you make a nice easy sauce.
While your pasta and potatoes are cooking away on the stove, pop a few pieces of bacon on a baking pan and cook them in the oven until they are nice and crispy, and when they are done, drain them on some paper towels and crumble them into pieces.  If it's your birthday, cook up an extra slice or two, just for extra bacon fun…you only go around once.
Now it's time to put the whole thing together.  Toss the potatoes and garlic into the pot of drained pasta, and add in a good amount of grated parmesan cheese.  Mix it all up together over low heat, pouring in a little of the reserved pasta water to make a nice light sauce.  Once it is all nice and saucy, add in the bacon and a little chopped rosemary, give it one more good toss, and divide it among plates.  Sprinkle a little more grated parmesan on top, grind on some fresh pepper, and dig in.
If you added enough bacon, it's almost enough to make you feel ten again.  🙂

Print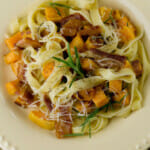 Fettuccine with Sweet Potatoes, Bacon and Rosemary
---
Ingredients
Two sweet potatoes, peeled and diced
Two cloves garlic, peeled and smashed
Three tablespoons olive oil
12 ounces fettuccine
6 slices bacon
1 cup freshly grated parmesan, plus extra for garnish
1/4 cup freshly chopped rosemary
Fresh ground pepper
---
Instructions
Preheat over to 425 and cook bacon on a baking sheet until crisp, about 10 minutes.
Cook pasta in salted boiling water until done. Reserve one cup pasta water before draining.
Heat olive oil in skillet over medium high heat. Add sweet potato and garlic and cook, stirring occasionally, until potato is tender.
Add potato mixture and cheese to pot of drained pasta and cook over medium-low heat, adding pasta water in small increments, until cheese is melted and the sauce is a nice light consistency. Only use as much water as you need.
Add bacon and rosemary (saving back a little rosemary for garnish) and toss again.
Divide among four plates and sprinkle some more cheese and rosemary on top, and grind some fresh black pepper on top. Serve at once.
Print this!