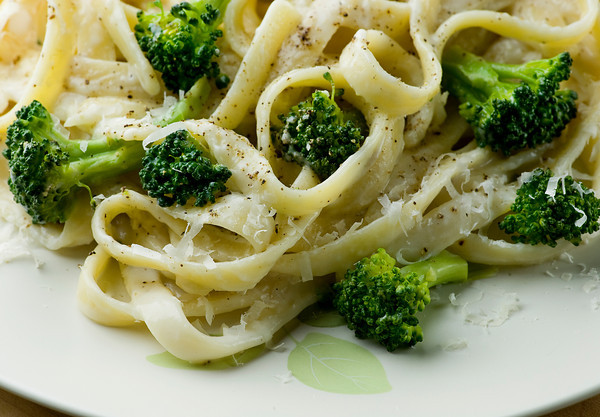 I do love a good heaping plate of fettuccine alfredo.   Alfredo, for those of you who don't already know, basically includes three ingredients.  Parmesan cheese.  Heavy cream.  And butter.  Lots of parmesan cheese, lots of heavy cream, lots of butter.  Over wide ribbons of pasta.  Listen, there's a reason it tastes so dang good…you could drench yesterday's newspaper in parmesan cheese and cream and butter and it would be delicious.
However, there is a price to pay for all this succulence, and that price will come back to haunt you when you try and button your favorite Levis if you have the classic fettuccine alfredo too often.  And since life is just too short to go for long without regular doses of fettuccine alfredo, we need a work-around.  When I came across this recipe for a lightened up version, I knew things were looking up.  The only issue was that it was a little TOO lightened up.  I've included the original link with the recipe, but let's just say that it went from heavy cream all the way over to skim milk, among other things.  I'm all for lightening, but I figured there was a happy medium somewhere in between heavy cream and milk that looks, well, blue.  (It does!  Take a good long look at some skim milk in the light…it's got a definite blue tinge.  That's just not okay.)
Anyway.  Part of the lightening up here is that we are taking out some of the pasta and tossing in some nice crunchy broccoli instead.  You don't HAVE to do this part, but it's actually pretty great tasting.  The significant lightening, however, comes in the reworked sauce.  The parmesan cheese is still there, but the  nice thick and creamy buttery sauce comes not from heavy cream, but from a mixture of lowfat milk that has been thickened up with a little flour and about one millionth the amount of butter that alfredo usually calls for.
Does it taste like classic alfredo?  Are we making whomever invented fettuccine alfredo spin in their grave?  Not exactly, and absolutely.  But it IS nicely creamy and cheesy and scrumptious, and if you make this one most of the time when you get that fettuccine alfredo jones, you are allowed to make the real one every tenth time or so.  This way both you and YOUR Levis are happy.
Fetteccine Alfredo Without All The Guilt, adapted from Real Simple
Fettuccine Alfredo Without All The Guilt

Ingredients

12 ounces fettuccine
1 head broccoli, cut into florets, stalk peeled and sliced
1½ cups 1 percent milk
2 tablespoons unsalted butter
2 tablespoons flour
1 cup cup freshly grated Parmesan, plus more for servingkosher salt

Instructions

Cook the pasta according to the package directions. Drain.
Meanwhile, bring a pot of salted water to a boil and cook the broccoli until tender, 3 minutes. Drain.
Heat the milk and butter in a large saucepan over low heat and slowly whisk in the flour. Simmer until slightly thickened, whisking constantly, 1 to 2 minutes.
Remove from heat and stir in the Parmesan and ½ teaspoon salt. Add the pasta and broccoli and cook, stirring, over low heat until heated through.
Top each serving with extra Parmesan.