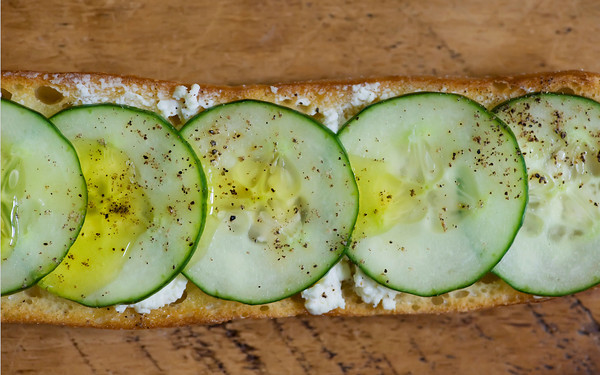 In the midst of the holiday season it feels sometimes like we are going from party to party to party, eating all the way.  This is further complicated by the fact that my birthday is in the middle of December.  So is the teenager's.  So is our anniversary.  Thank goodness the Southern husband was born in May, because one more celebratory dessert might just push us all over the edge.
On those handful of days where we DON'T have somewhere festive to go, I always like slipping in a dinner that is a little bit lighter than usual, in a feeble effort to balance things out, and this is one of my favorites.  Not only is it nice and light, but it's ready in a jiffy.  All you do is take a nice thin french baguette and split it in half length-wise.  Brush it with a little olive oil and pop it in a hot oven or a toaster until it is golden brown.
While your baguette is toasting, mash up some nice feta cheese with a little lemon juice, olive oil and salt and pepper (being careful with the salt, depending on how salty your feta cheese is).  Now spread the feta mixture on the bread, top it with thin cut cucumber slices, drizzle it with some nice olive oil and grind some pepper on top.  Cut it into sections and voila!  Perfect light and tasty supper.
We now return you to your whirl of holiday parties!
Print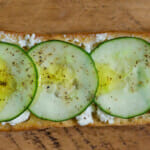 Cucumber Feta Toasts
---
Ingredients
1/2 baguette
2 teaspoons plus 4 teaspoons extra-virgin olive oil
3 ounces feta
1/2 teaspoon fresh lemon juice
Coarse salt and ground pepper
1 small English cucumber, thinly sliced crosswise
---
Instructions
Preheat oven or toaster oven to 450 degrees. Split baguette lengthwise and lightly brush cut sides with 2 teaspoons olive oil. Bake until golden around edges, 5 minutes.
Meanwhile, in a small bowl, mash together feta, 4 teaspoons oil, and lemon juice with a fork. Season with salt and pepper. Spread feta mixture evenly over toasted baguette and top with cucumber.
Season with salt, pepper, lemon juice, and a drizzle of oil. Cut into pieces to serve.
Recipe from Everyday Food