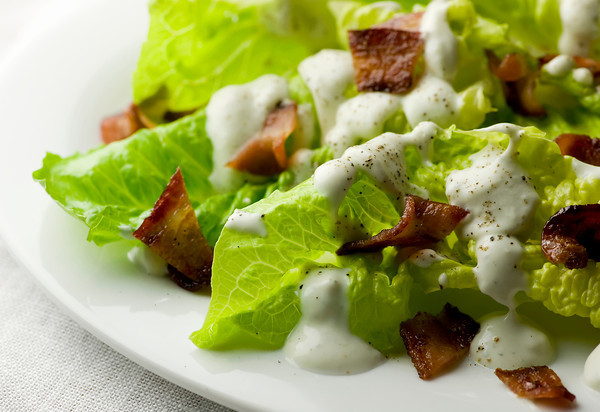 I don't know about you, but the salad course of any fancy dinner always tends to stump me.  So since we are right in the midst of fancy dinner season, I thought I would share one of my tried and true ones.  It never lets me down, for two important reasons.
Fabulous and easy blue cheese dressing.
2. BACON.
As far as I'm concerned, many of the world's problems can be easily solved by adding bacon, but that's just me.  Meanwhile, aside from the wonderfulness of the bacon, the dressing is one of best I've come across in a long while.  It calls for a good amount of blue cheese (and please get the good stuff.  Go to the cheese section of your favorite deli and ask them for their favorite Roquefort.  They'll probably even give you a sample piece to try – bonus points!!)
But it also calls for a bunch of other wonderful stuff, like mustard, and garlic, and creme fraiche (and if you can't find creme fraiche, sour cream will work just fine.)  
Now once you have your dressing all mixed up, prep your lettuce however you like it.  The classic way is to take a head of romaine and cut it into wedges (if you do it this way, cut off the top inch or two of the leaves as they can tend to be a little bitter).  In the photo above, I just went ahead and ripped the lettuce into bite-sized pieces.  I'm not sure why…I might just have been in a rip the lettuce to shreds mood.  
Anyway, here comes the best part.  Right before you are ready to serve the salad, take a few pieces of thick-cut bacon and cut it into pieces, and cook it up until it is just the right amount of crispy.  Drain it for just a minute, and while you are doing that, put the lettuce on the plate and drizzle the dressing over it.  Now sprinkle it with warm bacon pieces.  Yep.  Warm. Bacon. Pieces.  I'm drooling as I type, just from the memory of it all.  Now sprinkle a little crumbled blue cheese over the top, and you are ready to serve it.
You might not even have to bother with that pesky main course after all.
Creamy Roquefort and Warm Bacon Dressing, from Ile de France
Print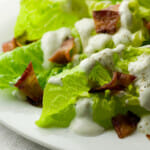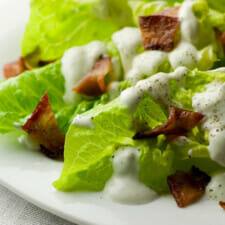 Creamy Roquefort and Warm Bacon Dressing
---
Ingredients
2 Tbsp. rice wine or white wine vinegar
2 tsp. sugar
1 tsp. dry mustard
8 oz. Roquefort, crumbled (about 2 cups), divided
1 small clove garlic, crushed
7 oz. créme fraîche (about 1 cup)
1/2 cup mayonnaise
4 slices thick-cut bacon, sliced crosswise into 1/2″ pieces
4 large romaine lettuce hearts, halved lengthwise
---
Instructions
* In a medium bowl, stir together vinegar, sugar and mustard until dissolved. Add 1/2 cup Roquefort, mashing and blending into mixture until almost smooth.
* Stir in garlic, crème fraîche and mayonnaise until well blended, then stir in one cup Roquefort.
* In a medium skillet, cook bacon until crisp; remove and drain. Spoon dressing over romaine hearts, then top with bacon and remaining 1/2 cup Roquefort.