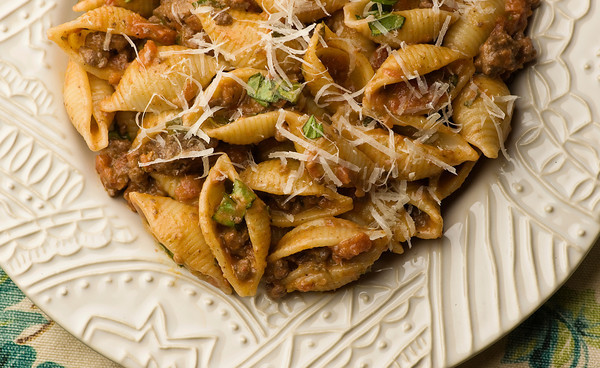 There are few things I like better on this planet than a good, warm, comforting bolognese sauce.  The only problem is, usually you need either a terrific restaurant or all day in order to get some.  One of my favorite, favorite bolognese recipes is the one I make in my slow cooker (see previous reference to the All Day issue.)  It's easy, it's delicious, it's delightful, it's de-lovely, but it's not something you can whip up when the whim strikes you.
And until I got my mitts on Ina Garten's new cookbook, HOW EASY IS THAT, I would not have believed it was possible to ever be able to make a speedy bolognese sauce that didn't taste like you threw it together in 10 minutes.  However, they don't call her Contessa for nothing, because her Weeknight Bolognese recipe?  It's the real deal.  Rich, delicious, perfect bolognese sauce that tastes like you spend all day on it, when you really spent, oh, 30 minutes or so.  It's the perfect storm of deliciousness and not spending forever in the kitchen.
It's bolognese sauce on a Wednesday night.  It's the BEST.
Weeknight Bolognese, with heartfelt thanks to Ina Garten
Print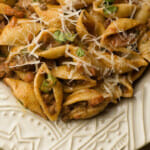 Weeknight Bolognese
---
Ingredients
2 tablespoons good olive oil, plus extra to cook the pasta
1 pound lean ground sirloin
4 teaspoons minced garlic (4 cloves)
1 tablespoon dried oregano
1/4 teaspoon crushed red pepper flakes
1 1/4 cups dry red wine, divided
1 (28-ounce) can crushed tomatoes, preferably San Marzano
2 tablespoons tomato paste
Kosher salt and freshly ground black pepper
3/4 pound dried pasta, such as orecchiette or small shells
1/4 teaspoon ground nutmeg
1/4 cup chopped fresh basil leaves, lightly packed
1/4 cup heavy cream
1/2 cup freshly grated Parmesan cheese, plus extra for serving
---
Instructions
Heat 2 tablespoons of olive oil in a large (12-inch) skillet over medium-high heat. Add the ground sirloin and cook, crumbling the meat with a wooden spoon, for 5 to 7 minutes, until the meat has lost its pink color and has started to brown. Stir in the garlic, oregano, and red pepper flakes and cook for 1 more minute. Pour 1 cup of the wine into the skillet and stir to scrape up any browned bits. Add the tomatoes, tomato paste, 1 tablespoon salt, and 1 1/2 teaspoons pepper, stirring until combined. Bring to a boil, lower the heat, and simmer for 10 minutes.
Meanwhile, bring a large pot of water to a boil, add a tablespoon of salt, a splash of oil, and the pasta, and cook according to the directions on the box.
While the pasta cooks, finish the sauce. Add the nutmeg, basil, cream, and the remaining 1/4 cup wine to the sauce and simmer for 8 to 10 minutes, stirring occasionally until thickened. When the pasta is cooked, drain and pour into a large serving bowl. Add the sauce and 1/2 cup Parmesan and toss well. Serve hot with Parmesan on the side.