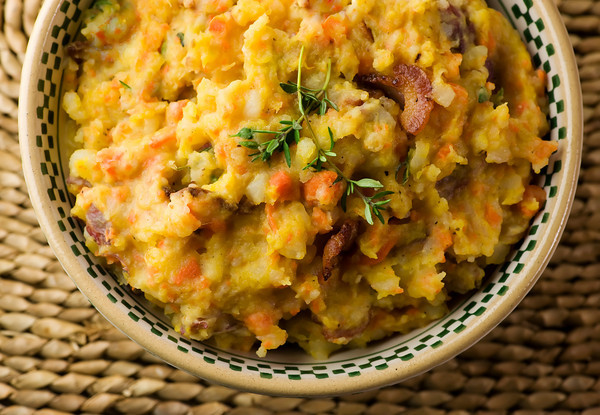 [donotprint]
This is one of those recipes that just came out of the blue and kind of made itself, when I had set out to make something completely different.  Or so I thought….(cue dramatic music, or just click here.)
Anyway, what I thought I was making was roasted fall vegetables.  I had me some nice cut up butternut squash, some red potatoes, a couple of onions and some carrots, and I was right in the middle of roasting them to go with some roasted chicken, and that's when it hit me.
What if I took all those delicious tender roasted vegetables and mashed them all up together with a little chicken broth?  What if I added just enough half and half to make them just the right amount of creamy? What if I mixed in a little but of chopped fresh thyme?
What if I added…BACON?
Sometimes it pays to just completely ignore whatever recipe you think you are making, and listen to your inner voice.  Especially if that inner voice is saying the words "mashed" and "bacon" in the same sentence.
[/donotprint]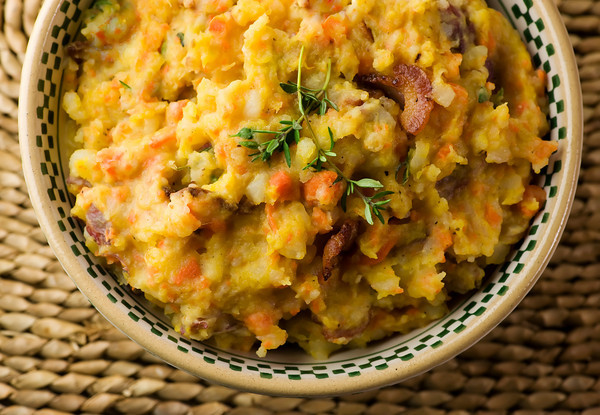 Ingredients
2 pounds butternut squash, peeled, seeded and cut into 1 inch pieces
2 pounds new red potatoes, washed and quartered
2 red onions, peeled and quartered
1 pound carrots, cut into 2 inch pieces
4 cloves garlic, peeled and smashed
3 tablespoons olive oil
Coarse salt and pepper
½ cup chicken broth
1 cup half and half, warmed
4 ounces bacon, cut into ½ inch pieces
1 teaspoon fresh thyme leaves
Instructions
1. Preheat oven to 450. Toss vegetables with oil, 2 teaspoons salt and ¼ teaspoon pepper. Put in single layer on foil lined baking sheets and roast until tender, about 45 minutes.
2. Meanwhile, cook bacon until crispy and set aside.
3. Gently mash cooked vegetables with chicken broth. Fold in half and half and mix until creamy. Stir in bacon and thyme. Taste and adjust seasonings as needed, and serve immediately.