Chicken and Sesame Noodles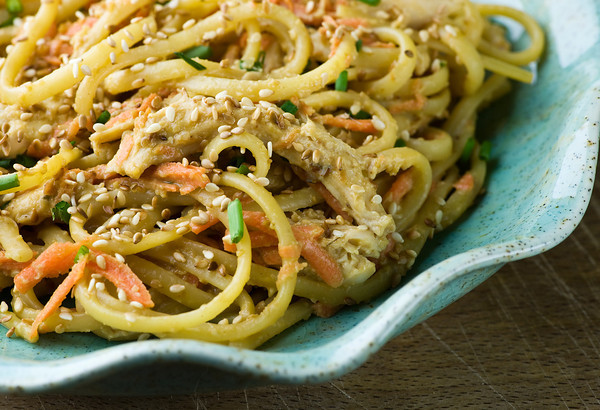 ¼ cup sesame seeds
¼ cup peanut butter
5 tablespoons soy sauce
2 tablespoons rice vinegar
2 garlic cloves, minced
1 tablespoon minced ginger
1 teaspoon Tabasco
2 tablespoons brown sugar
9 ounces linguine
2 tablespoons sesame oil
2 cups shredded cooked chicken
2 carrots, shredded
4 scallions, sliced thin
1. Toast sesame seeds in medium skillet over medium heat until lightly browned. Set aside.
2. Puree 3 tablespoons sesame seeds, peanut butter, soy sauce, vinegar, garlic, ginger, tabasco and brown sugar together in food processor until smmoth, about 30 seconds. Set aside.
3. Cook linguine with 1 tablespoon salt until tender. Drain noodles. If you want your sesame noodles cold then rinse under cold water until cool, otherwise just drain and proceed to next step.
4. Toss noodles with sesame oil until coated. Add chicken, shredded carrot, scallions and sauce and toss well to combine. Sprinkle with remaining sesame seeds and serve.
{Please close floating ads before printing.}
---
Article printed from Framed Cooks: http://www.framedcooks.com