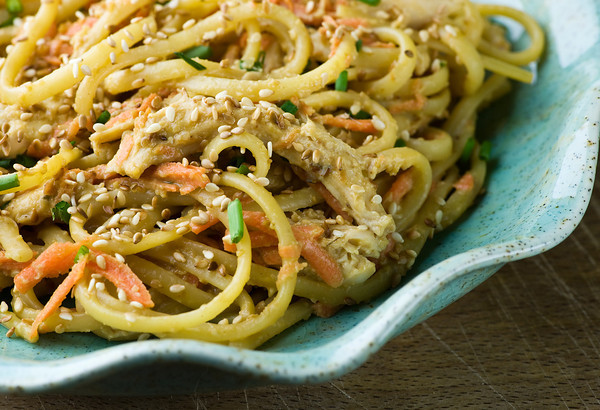 I have a bad, bad habit when it comes to sesame noodle recipes, which pretty much goes like this: I try every one I run across.  The noodles, the peanut sauce, the sesame seeds, the slight kick of spiciness…there's something about all of that that has me at hello, goodbye and everything in-between.  As a result, there are a few of these on this very site, and I love all of them so dearly.  I do.
But this one…this one has a special place in my heart.  It involves tender roasted chicken and sweet shredded carrots.  It can be eaten hot.  It can be eaten cold.  And it is largely based on a recipe from Cooks Illustrated, which pretty much guarantees that it will be perfect every time you make it.
So if you, like me, are head over heels in love with sesame noodles of all kinds, you must, must, must, must give this one a try.  I promise it will be the kind of love that lasts a lifetime.  Noodle-wise.
Chicken and Sesame Noodles, adapted from Cooks Illustrated
Print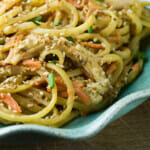 Chicken and Sesame Noodles
---
Ingredients
1/4 cup sesame seeds
1/4 cup peanut butter
5 tablespoons soy sauce
2 tablespoons rice vinegar
2 garlic cloves, minced
1 tablespoon minced ginger
1 teaspoon Tabasco
2 tablespoons brown sugar
9 ounces linguine
2 tablespoons sesame oil
2 cups shredded cooked chicken
2 carrots, shredded
4 scallions, sliced thin
---
Instructions
Toast sesame seeds in medium skillet over medium heat until lightly browned. Set aside.
Puree 3 tablespoons sesame seeds, peanut butter, soy sauce, vinegar, garlic, ginger, tabasco and brown sugar together in food processor until smmoth, about 30 seconds. Set aside.
Cook linguine with 1 tablespoon salt until tender. Drain noodles. If you want your sesame noodles cold then rinse under cold water until cool, otherwise just drain and proceed to next step.
Toss noodles with sesame oil until coated. Add chicken, shredded carrot, scallions and sauce and toss well to combine. Sprinkle with remaining sesame seeds and serve.