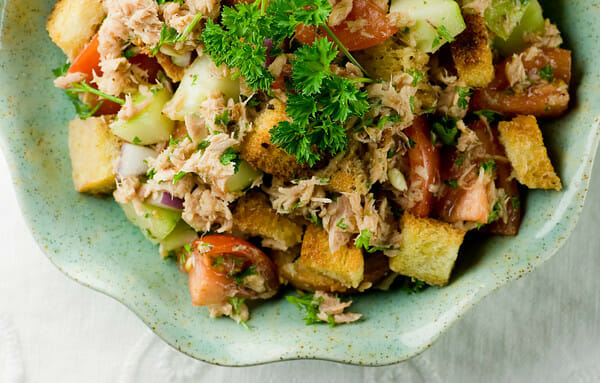 My favorite thing about this fabulous, delicious, nutritious, handsome dish is how scrumptious it tastes.
My second favorite thing is that you can throw it together in about 20 minutes.
My third favorite thing (and it might secretly really be my first favorite thing) is that I got the recipe from a website called Tuna The Wonderfish.  Yes….www.tunathewonderfish.com.  This makes me ridiculously happy, just the very fact that I am surrounded by mindblowing cookbooks like THE SILVER PALATE COOKBOOK and THE WAY TO COOK and COOK'S ILLUSTRATED NEW BEST RECIPE, and I can still find rocking good recipes that make my heart sing on Tuna The Wonderfish.  It restores my faith in…something.  It definitely makes me smile.  
Meanwhile, back at the recipe, this is pretty much your standard, wonderful panzanella salad…but with tuna.  Panzanella salad is basically a mixture of toasted bread cubes, tomato, and a mix of herbs and a few spices.  In this recipe, you toss in some cucumber and a little red onion, and (of course) some tuna.  You can use the water-packed version if you really have to, but I think that tuna packed in oil is just SO much better.  Drain off as much of the oil as you want to, and go for it…it's worth it.  My other words of tuna wisdom are these: don't bother "flaking the tuna with a fork" or using some other dainty method to break it up.  The only way to deal with tuna is with your hands.  Dump it in a bowl, wash your hands, and then break it up with your fingers until it is all nice and shredded.  It's easy and efficient, and if you use the oil-packed tuna your hands will get all moisturized in the process.
After that, it's just a matter of tossing everything else together in a bowl and digging it…it honestly could not be easier, or more delicious.  Tuna the Wonderfish!!  They weren't kidding.
Print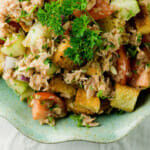 Tuna Panzanella Salad
---
Ingredients
2 cans of tuna (12 oz each) or 2 pouches of tuna (5 oz or 6.4 oz each)
3 tablespoons olive oil
2 taspoons minced garlic
1/2 teaspoon dried oregano
1 loaf (4-5 cups) Italian bread, cubed
1 teaspoon kosher salt
1 large tomato, cubed
1 medium cucumber, cubed
1 red onion, diced
15 large fresh basil leaves, chopped
1/2 cup light balsamic vinaigrette
---
Instructions
Preheat oven to 300° F. In a large bowl, toss bread cubes with olive oil, garlic and salt. Spread on a baking sheet and bake for 7-10 minutes until toasted. In another large bowl, mix tuna, peppers, tomato, cucumber onion, and oregano together to blend well. Add bread cubes, basil, and vinaigrette and toss well. Garnish with fresh basil, and salt and pepper to taste.
 Recipe adapted from the (I am not kidding) TunaTheWonderfish.com