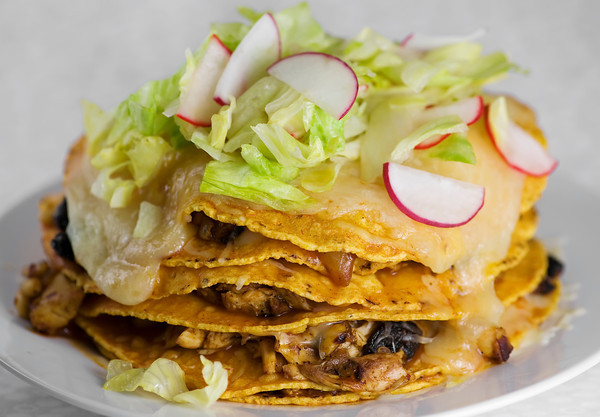 Okay, consider this a warning:  make this extremely fun recipe when you and everyone around you is extremely hungry.  This is not a recipe for the faint of heart, or anyone not wearing an elastic waistband. We're talking chicken, cheese and – count 'em – six tortillas in each stack.  Now that's not to say that you can't cut the stack into sections and give each person a section.  That's what the Southern husband and I did, and after we had plowed our way through a reasonable section of each of our respective halves, we gave each other the "I'm So Full I Can't Eat Another Bite Even Though I Really Really Really Want To" look.  Marital look # 274, right behind the "I Think It's Definitely Your Turn To Let The Dog Out" look.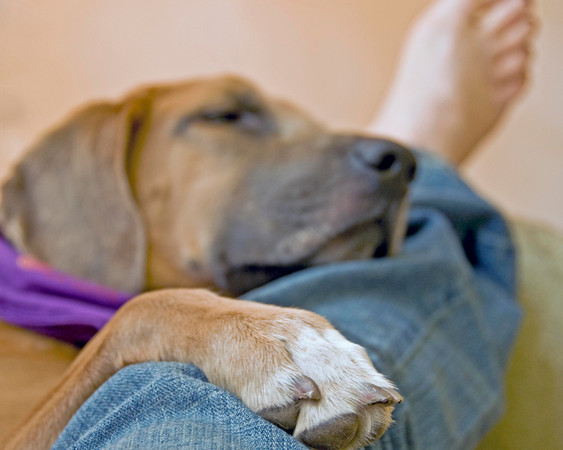 Now that we've gotten all that out there, let me just say that if you are a little bored with all the usual Tex-Mex recipes in your repertoire,  this is a delightful and pretty easy departure, especially if you (like me) have some leftover cooked chicken that needs a home.  I always deliberately make extra when I do my beloved Buttermilk Grilled Chicken because I know I will need it later in the week for something or other, and in this case the Southern husband shredded up that leftover chicken for this stack of enchilada wonderfulness.  Then it's just a case of building a tower of corn tortillas that have been dunked in enchilada sauce, the shredded chicken that you have mixed up with an easy, spicy sauce, and of course cheese.  A little while in the oven just to make it perfectly warm and melty, a little lettuce and radish garnish, and you are in stacked enchilada heaven.
Just remember, elastic waistband!  It should probably be part of the recipe.
 Stacked Chicken Enchiladas, adapted slightly from My Recipes 
Print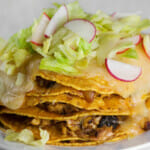 Stacked Chicken Enchiladas
---
Ingredients
1 cup chopped onion
1 tablespoon olive oil
1 can or bottle (28 oz.) enchilada or taco sauce, divided
1/2 cup pine nuts
1/4 cup raisins
1/4 teaspoon cinnamon
1/4 teaspoon ground allspice
1 tablespoon finely chopped canned chipotle chiles in adobo sauce, plus 2 tsp. sauce
1 tablespoon tomato paste
1 tablespoon firmly packed light brown sugar
1 tablespoon white wine vinegar
3 3/4 cups shredded white and/or dark chicken meat
12 six-inch corn tortillas
3 cups coarsely shredded jack cheese
2 radishes, halved and thinly sliced
3 tablespoons fresh lime juice
1/4 cup extra-virgin olive oil
5 to 6 cups very thinly sliced iceberg lettuce
Salt and freshly ground black pepper
---
Instructions
Preheat oven to 375°. In a large frying pan over medium-high heat, cook onion with olive oil, stirring often until softened, about 5 minutes.
Stir in 3/4 cup enchilada sauce, the pine nuts, raisins, cinnamon, allspice, chipotle chiles, adobo sauce, tomato paste, brown sugar, and vinegar. Add chicken, then bring mixture to a boil, stirring. Remove from heat. Pour remaining sauce into a pie pan.
To make enchilada stacks, dip 1 tortilla in sauce in pie pan to coat. Place on an ovenproof dinner plate. Repeat with another tortilla on a second plate. Spread each tortilla evenly with a heaping 1/3 cup chicken mixture, then with 1/4 cup cheese. Repeat layering with 8 more tortillas, dipping them in sauce, then adding chicken mixture and cheese to make 2 stacks of 5 layers. (You'll use all the chicken but not all the cheese.) Dip the last 2 tortillas in sauce, place each, curved side down, on stack, and sprinkle with remaining cheese.
Bake enchiladas until hot in the center and cheese bubbles on top, 10 to 15 minutes.
Meanwhile, pour remaining sauce from the pie pan into a microwave-safe pitcher and cook in a microwave oven on full power until simmering, 1 to 2 minutes. To make the salad, stir together radishes, lime juice, and extra-virgin olive oil in a large bowl. Just before serving, stir in lettuce. Season to taste with salt and pepper.
Top each enchilada with a small mound of salad and cut in thirds or quarters to serve.