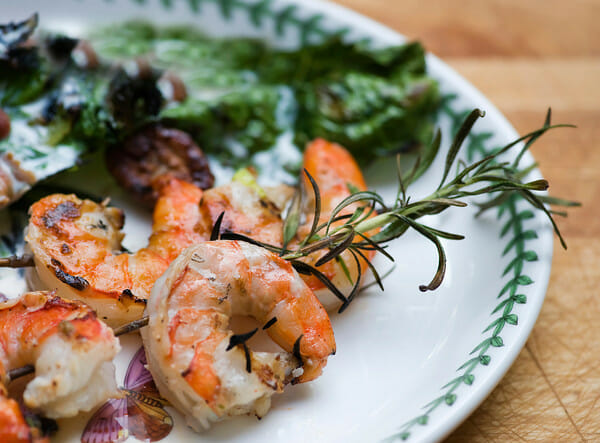 Every now and then I run across an idea for a recipe – usually a completely simple and obvious one – that has never, ever occurred to me before.  And after I smack myself in the forehead a couple of times, I then can't settle down until I make it, just to make up for lost time.  That's how I was with this shrimp.  I'm sure you guys figured this out millions of years ago, but it wasn't until a few weeks ago that I realized that those tall, woody stems of rosemary growing in my back yard herb garden weren't just good for, well, rosemary.
They also make rocking good SKEWERS.  Yep, skewers.  As in, those things that you spear things on and pop on the grill.  In this case, I used some nice big shrimp, and after they were nice and skewered, I marinated them in a little Italian salad dressing for about an hour.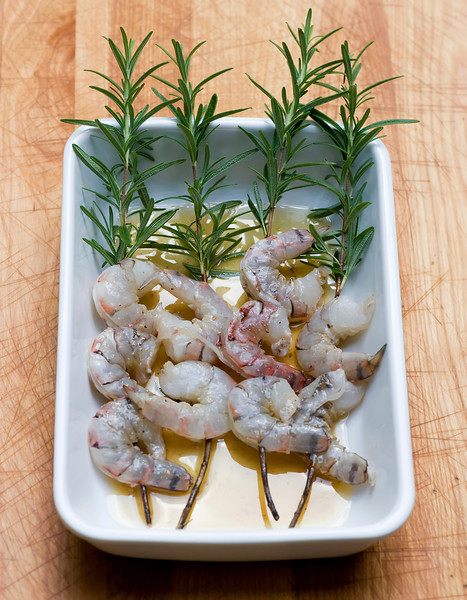 After that, all I had to do was pop them on the grill for a couple of minutes per side.  If you have a gas grill, turn one side down low so that the rosemary leaf end of the skewers is on the cool side.  That way you still have a little bit of non-burnt rosemary when you are done.  I served mine with a little romaine leaf salad with buttermilk dressing and candied pecans, and all was pretty much right with the world.
I wonder what else I am missing???  Let me know if you have any ideas. 

[amd-zlrecipe-recipe:93]
Recipe from Taste of the South