Before I get into the wonderfulness of this dish, here's yet another insight into how the Southern husband and I team up on this whole food thing I have going on.  Being the obsessively organized, over-scheduled person that I am, I make up my menus for the week on the weekend, and each morning I put out the recipe for the day before I trundle off to work.  By the time I've gotten home, the Southern husband has looked it over and done a pretty decent job of getting out the ingredients and lining them up on the counter.  (Although I will say, the man has a hard time differentiating between a zucchini and a cucumber.  Hey, nobody's perfect, right?)
There's also usually at least one day a week where I need some ingredient that needs to be gotten fresh on the day the recipe is being made – usually seafood but sometimes other things – and since I work far from home and he works close, he's elected.  For this particular recipe, I wanted really nice fresh ravioli…not the kind from the supermarket.  I'm sure those would work fine, but I was looking for FINE.  So that was his assignment: really FINE ravioli.  
He's usually pretty relaxed about these assignments, but he looked at the recipe beforehand, and started to sweat a little.  Because as you will see, this recipe features a pretty simple, light, streamlined "sauce."  It's delectable, but it's basic: garlic, a little olive oil, some walnuts, a little lemon juice and some parsley.  It's an accent more than a sauce…which is why I needed FINE ravioli.  The pressure was on.  And so wisely, he headed to one of my favorite places on earth, The Italian Riviera.  Not the actual Italian Riviera, but the fabulous Italian Riviera food market in Waldwick, New Jersey.  
FINE ravioli.  FINE.
And now that I had my ravioli, it was a quick 10 minutes worth of cooking the ravioli, sautéing the garlic and walnuts in olive oil with some lemon juice and parsley, and tossing on some parmesan.  the Southern Husbande!
He did SUCH a good job I almost let him get out of cleaning up the kitchen.  Almost!
Print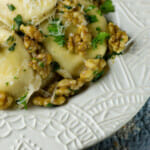 Cheese Ravioli with Toasted Walnuts
---
Ingredients
One 14- to 16-ounce package cheese ravioli
1/3 cup olive oil
1 clove garlic, sliced
1 cup (2 ounces) walnuts, roughly chopped
2 teaspoons lemon juice
Kosher salt and pepper
1/2 cup fresh flat-leaf parsley, chopped
1/4 cup grated Parmesan
---
Instructions
Cook the ravioli according to the package directions. Drain, reserving 3 tablespoons of the cooking water.
Heat the oil in a medium skillet over medium heat. Add the garlic and walnuts. Cook, stirring, until the nuts are lightly toasted and fragrant, about 5 minutes. Stir in the lemon juice, 1/2 teaspoon salt, 1/4 teaspoon pepper, the parsley, and the reserved cooking water. Add the ravioli and toss to coat. Divide among individual plates and sprinkle with the Parmesan.