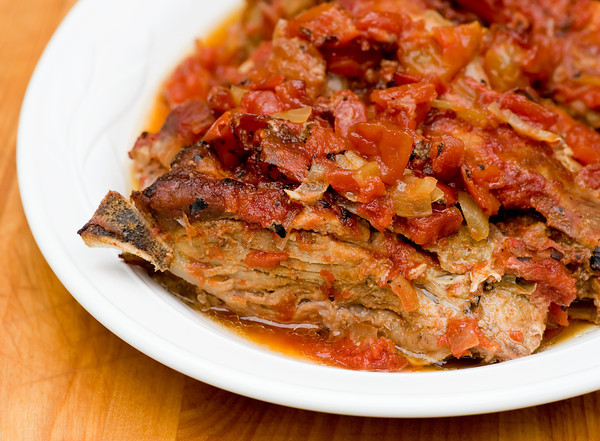 Two 14.5 oz cans diced tomatoes with juice
¼ cup chopped sweet onion
2 garlic cloves, minced
½ teaspoon red pepper flakes
½ cup maple syrup
2 tablespoons soy sauce
4 bay leaves
4 pounds country style pork ribs
Salt and pepper
1. Combine tomatoes, onion, garlic and red pepper in a small saucepan and simmer over low heat for 15 minutes. Stir in maple syrup and soy sauce.
2. Preheat oven to 300 and line a 13x9 inch baking dish with foil. Place the bay leaves in the bottom of the dish.
3. Season the ribs with salt and pepper and lay them in the baking dish. Pour half of the sauce over them, turning them a few times to coat them with the sauce. Cover the pan tightly with foil.
4. Bake for three hours, then remove the foil, pour the remaining sauce over and bake for an additional hour or so until the sauce is thick and the ribs are tender.
5. Put the ribs on a serving platter and let stand for 15 minutes. Tilt the pan and ladle off the fat from the pan juices, and then pour the pan sauce over the ribs and serve.