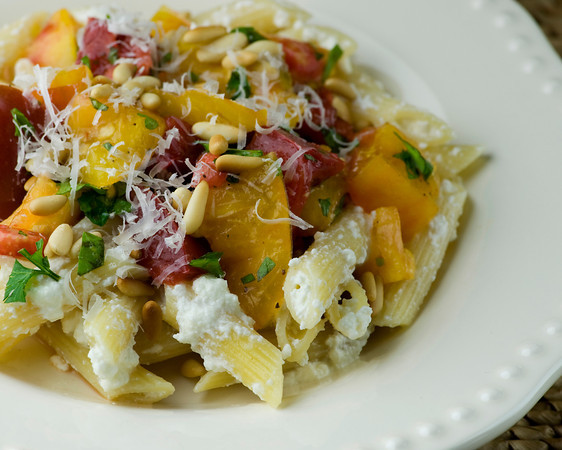 Okay, so I haven't mentioned the word "ricotta" in WEEKS now, and it's time.  We're also rapidly coming to the end of fresh tomato season, and I especially hate to say goodby to the heirloom tomatoes – those funky-colored, lumpy, delectably delicious guys that are just plain summer in tomato form.  They come in red of course, but also yellow, purple, striped – you name it.  And they have an amazing sweet taste that is just addictive.  If you've been passing those heirloom tomatoes by, now is your chance to give a strange-looking tomato a break…and this is a fun and fast recipe to try it with!
All you do is chop up a few of those tomatoes (I like to mix up different colors) and let them sit in a lovely bath of olive oil, lemon juice, salt and pepper, and whatever conglomeration of fresh herbs you like.  While the tomatoes are resting in this wonderfulness, cook up a pot of penne pasta, toast a handful of pine nuts, and get some fresh ricotta and grated parmesan cheese ready to roll.
When the pasta is done, save a little of the water and toss the pasta with the ricotta, the parmesan and enough of the saved pasta water to make a nice creamy sauce.  Now mix in the tomato mixture, sprinkle in some pine nuts, toss a little more grated parmesan on top, and go eat it outside on your picnic table while you still can.  Summer, you go so fast….
Pasta with Ricotta and Heirloom Tomatoes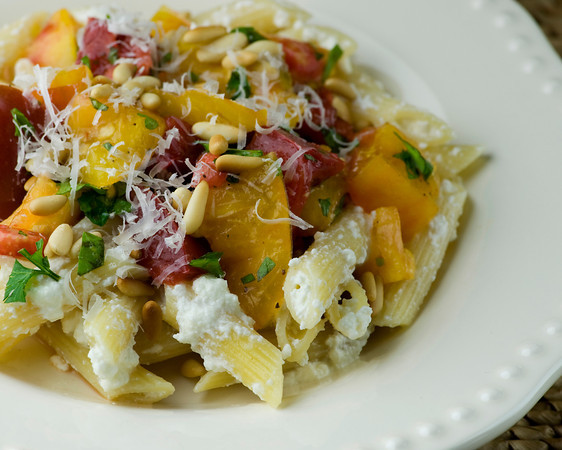 Ingredients
2 pounds heirloom or other tomatoes, cut into bite-size pieces
1/4 cup chopped mixed fresh herbs (such as chives, flat-leaf parsley, basil, and tarragon)
1 tablespoon fresh lemon juice
1 tablespoon olive oil
kosher salt and black pepper
12 ounces penne (3/4 box)
2 tablespoons pine nuts
1/2 cup ricotta
1/4 cup grated Parmesan (1 ounce), plus more for serving
Directions
Heat oven to 400° F. In a large bowl, combine the tomatoes, herbs, lemon juice, oil, ½ teaspoon salt, and ¼ teaspoon pepper. Let stand, tossing occasionally.
Meanwhile, cook the pasta according to the package directions. Reserve ½ cup of the cooking water, drain the pasta, and return it to the pot.
Spread the pine nuts on a rimmed baking sheet and toast in oven, tossing occasionally, until golden, 5 to 6 minutes.
Toss the pasta with the ricotta, Parmesan, and enough of the reserved pasta water to create a creamy sauce. Top with the tomato mixture and pine nuts. Serve with more Parmesan, if desired.