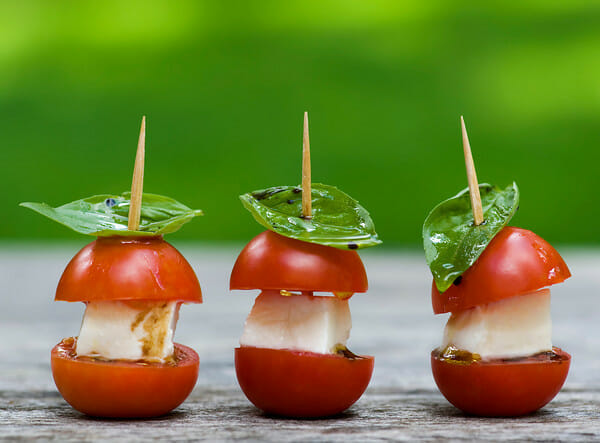 Ingredients
1 pt. cherry tomatoes, halved
1/2 pound fresh mozzarella, cut into cubes
1/4 cup extra virgin olive oil
2 tablespoons balsamic vinegar
1/4 teaspoon kosher salt
1/4 teaspoon pepper
Fresh basil leaves
Kosher salt and pepper to taste
Directions
1. Combine oil, vinegar, salt and pepper in a measuring cup. Place the mozzarella cubes on a plate in a single layer and drizzle them with the vinegar mixture.
2. Thread 1 basil leaf, tomato half, 1 piece of cheese, and another tomato half onto toothpicks. If you want them to stand up on your serving plate, make sure the tomato half on the bottom is the one with the stem end - that side tends to be flatter.
3. Arrange them on a plate and serve at once.