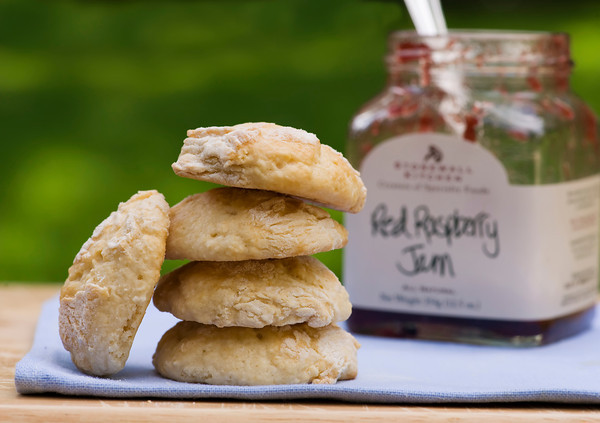 Okay, so this is one of those recipes where you read it and you say NO way.  Then you read it again, and you think, could this possibly work?  Because it sounds great…but no way.  It can't really work.
Can it?
It can.
There are three ingredients in these scones.
Self-rising flour2. Vanilla extract3. Vanilla ice cream.
No way, right?
WAY!
This recipe comes from a site called Ice Cream Ireland,  and to make things even more complicated, the original recipe is from Australia, but wherever it comes from, it works.  You take a pint of your favorite vanilla ice cream…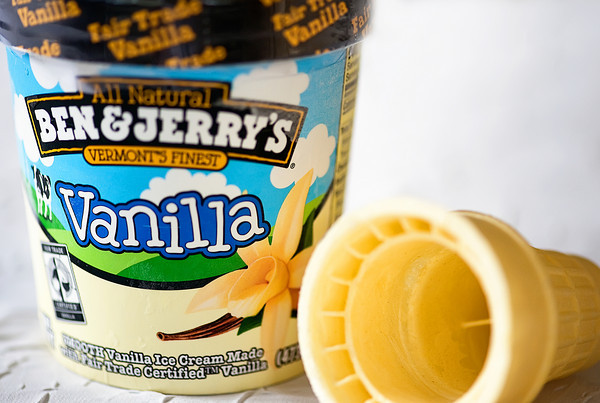 Let it soften for about 15 minutes while you preheat the oven to 375 and lesiurely assemble the rest of the ingredients.  Once it has gotten mushy enough to scoop easily, spoon it into a mixing bowl with the flour (make sure you use self-rising) and about a teaspoonful of vanilla.  Mix it up until you have a moist dough.  Now scoop the dough onto a well-floured surface (and prepare yourself, this dough will be cold!  Why this came as a shock to me I have no idea, since it did involve an entire pint of ice cream, but there you go.)
Now take your chilly dough and roll it into a long tube shape.  You'll need to work in a little more flour as you go, just enough to get it to hold together and feel more floury than ice creamy.  Once you have your nice long tube, about an inch wide and a foot long, then slice it into one inch rounds – these are mini-scones we are making.  Pop them onto a baking sheet and into the oven for about 20 to 25 mnutes, until they are nice and golden.  They will flatten out a tiny bit, but will end up light and fluffy and tasting of vanilla wonderfulness.
Something the things that seem too good to be true actually are.

Ice Cream Mini Scones, from Ice Cream Ireland 
Print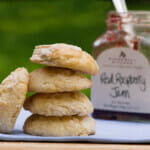 Ice Cream Mini Scones
---
Ingredients
1 pint vanilla ice cream
1 1/2 cups self-rising flour
1 teaspoon vanilla extract
Extra flour for rolling out the scones
---
Instructions
Let ice cream soften for about 15 minutes, and preheat the oven to 375
Add ice cream and flour to mixer and mix until combined into a dough that sticks together.
Generously flour countertop or other rolling surface and place dough on flour. Knead it just a little until dough comes together, adding additional flour as needed until you have a dough that is more floury than wet.
Roll with your hands into a long thin tube shape that is about 1 inch wide and 12 inches long.
Cut dough into 1 inch segments and place on baking sheet about 2 inches apart.
Bake until just turning golden brown, about 20-25 minutes. Cool on rack.