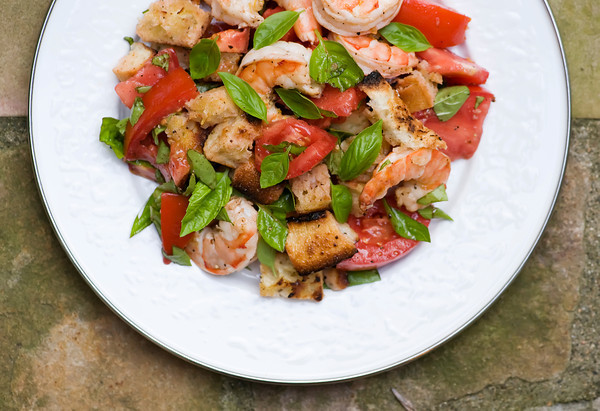 1½ pounds large shrimp, peeled and deveined
¼ cup olive oil
2 tablespoons red wine vinegar
kosher salt and black pepper
1 small baguette, cut in half lengthwise
3 cups (3-4 large) tomatoes - heirloom if you can get them!
I cup of fresh basil, chopped (save the little leaves for garnish
1. Heat grill to medium-high. Toss the shrimp with 2 tablespoons of the olive oil, and brush the cut side of the bread with a little more olive oil.
2. Grill the bread until it is golden, about 1-2 minutes per side.
3. Grill the shrimp for 2 minutes per side. If you have a seafood grilling pan it will be perfect for this - if not, just lay them carefully on the grate with tongs.
4. Cut the baguette into small squares and place in a large bowl. Add the shrimp, baguette, tomatoes, and basil with the vinegar, the remaining oil and salt and pepper to taste.