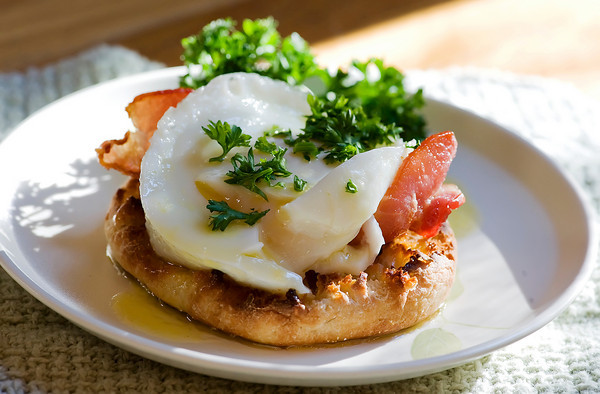 I do love to mix things up recipe-wise on this blog.  Lasagna Cupcakes, Bacon Cinnamon Rolls, Chocolate Merlot Tarragon Truffles…there's really not too many culinary boundaries that I'm not willing to jump right over.  But every once in a while I get a yearning for a tried and trusted classic, and one of my favorites is Eggs Benedict.  Whenever I see it on a menu somewhere I am sucked right in like a bee to honey, and so it was only a matter of time before I had to try it right there in my kitchen. 
And whenever I get a craving for something classic, there's one site that I tend to turn to over and over, because I know I am going to find perfect, clear, utterly reliable recipes, and that is the perfectly named Simply Recipes.  While there are certainly a ton of wonderfully exotic recipes on this site, it's also a terrific resource for things that you know and love but don't yet have the perfect recipe for.  So on that day that I simply HAD to make my own eggs benedict, I made a beeline for Simply Recipes, and there it was.  Canadian bacon, poached eggs, a simple blender hollandaise…classic and scrumptious and exactly, exactly what I had in mind.
It's like finding that perfect, regular, ordinary pair of jeans.  Sometimes in a sea of low-rise-flare-boyfriend-cut-indigo-wash-jeggings, you just want a good old pair of Levi's.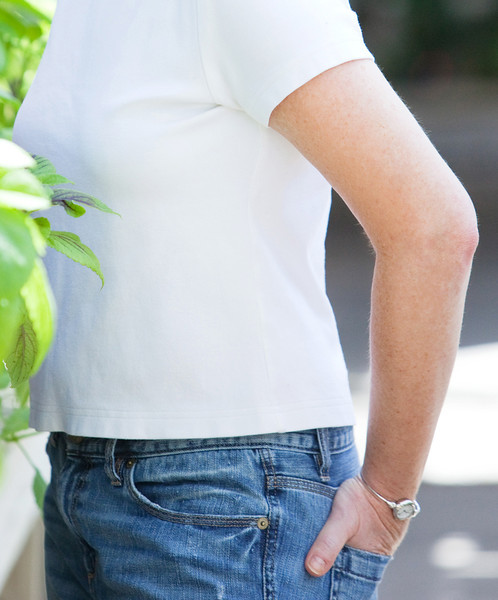 Or a perfect, regular, ordinary plate of eggs benedict, right in your own kitchen.
Thanks, Simply Recipes!

Print
Ingredients
8 pieces of bacon or 4 pieces of Canadian bacon
2 tablespoons chopped parsley, for garnish
4 eggs
2 English muffins
Butter
Blender Hollandaise
10 Tbsp unsalted butter
3 egg yolks
1 Tbsp lemon juice
1/2 teaspoon salt
Dash of cayenne or tabasco
---
Instructions
Heat a large skillet on medium low heat. Add the strips of bacon or the slices of Canadian bacon. Slowly fry, turning occasionally, until the bacon is browned on both sides, and if using strip bacon, much of the fat is rendered out (about 10 minutes). Use tongs or a fork to remove the bacon from the pan, set on a paper towel to absorb the excess fat.
Blender Hollandaise
To make blender hollandaise, melt 10 Tbsp unsalted butter. Put 3 egg yolks, a tablespoon of lemon juice, 1/2 teaspoon salt in a blender, blend on medium to medium high speed for 20-30 seconds, until eggs lighten in color. Turn blender down to lowest setting, slowly dribble in the hot melted butter, while continuing to blend. Taste for salt and acidity and add more salt or lemon juice to taste.Transfer it to a container you can use for pouring and set it on a warm – but not hot – place on or near the stovetop.
Poach Eggs
4 You can either do it the traditional way by slipping them gently into simmering water for about four minutes or so and then scooping them out with a slotted spoon, or you can take the easy way out the way I do and use silicone poach pods. They are not totally authentic but they are completely reliable, which goes a long way.
5 While you are poaching the eggs in whatever way you like, toast your English muffins.
Assemble
6 butter one side of an English muffin. Top with two slices of bacon or 1 slice of Canadian bacon. Put a poached egg on top of the bacon, then pour some hollandaise over. Sprinkle some parsley over it all and serve at once.
adapted just a little from the simply wonderful Simply Recipes