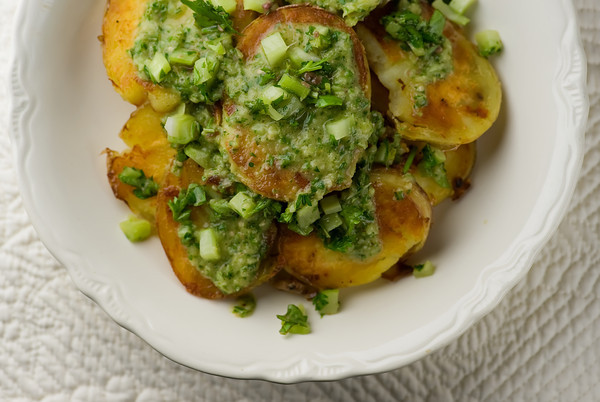 ¾ cup fresh basil
¾ cup fresh celery leaves
¾ cup parsley
7 anchovy fillets, finely chopped
1 celery stalk, sliced
¼ cup plus 2 tablespoons plus 1 teaspoon extra-virgin olive oil
2 tablespoons plus 1 teaspoon fresh lemon juice
1 tomatillo, husked
2 garlic cloves, 1 chopped
1 pinch crushed red pepper
Salt
4 medium potatoes, boiled
Mix basil, celery leaves, and parsley with 6 of the 7 chopped anchovy fillets. Transfer ⅓ of mixture to a medium bowl; add sliced celery stalk and 1 tsp. each extra-virgin olive oil and fresh lemon juice; reserve for garnish.
Purée remaining mixture in a food processor with tomatillo, garlic clove, 2 Tbsp. lemon juice, crushed red pepper flakes, and ¼ cup extra-virgin olive oil. Season chimichurri with salt.
Cut potatoes into ¼" slices. Heat 2 Tbsp. olive oil in a large skillet; add potatoes, 1 chopped garlic clove, and 1 chopped anchovy fillet; fry until crispy. Divide potatoes among 4 plates, spoon some chimichurri over, top with garnish, and drizzle with more chimichurri.
Recipe from Bon Appetit [3]