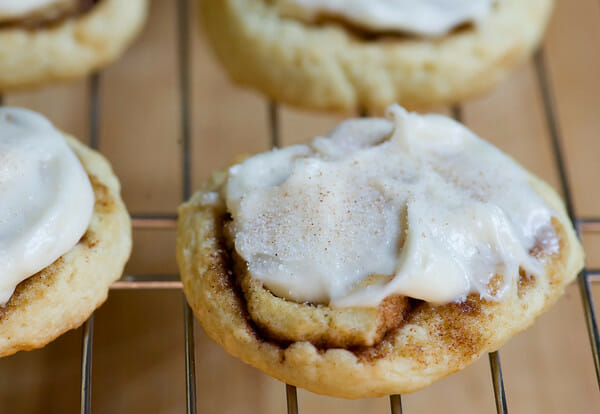 Here are my two favorite things about this recipe.  First of all, it takes one of my favorite things in the world, cinnamon rolls, and turns them into a cookie.  A cookie!  I thought I had reached cinnamon roll heaven when I made bacon cinnamon rolls, and believe me when I say I have to restrain myself on a regular basis from making those Very Bad (and by Very Bad I mean Incredibly Decadently Scrumptious) bacon cinnamon rolls every dang day.  But then I saw these cookies, and new cinnamon vistas opened up for me.  Vistas covered in cookies that had those swirls of cinnamon and frosting made of cream cheese and angel dust.  Okay, cream cheese and sugar.  You get the drift.
My second favorite thing about this recipe is that I found it when I was poking around for cinnamon roll recipes and got inspired by one that I found on the Picky Palate blog.  Oh, this blog.  It's a lot of fun, and contains some of the most outrageously inventive sweet treats I know.  Right now it has a recipe up for something involving Oreos and peanut butter and brownie mix.  Yep, that's the kind of fabulous blog it is, and so no surprise that Jenny from Picky Palate figured out that cinnamon rolls could become cookies.  One day I hope I can thank her in person.
So, here you go.  You pretty much make the cookies in the same general way you make cinnamon rolls, but without all that pesky yeast and rising and all that.  You make an easy cookie dough, roll it flat, spread it with a cinnamon sugar butter mix, roll it into a log, slice it up, bake the cookies, cool them and frost them with an easy cream cheese frosting.  Then secure them in a room with a padlock on the door so you don't stand there and eat every last one yourself.
Now, if despite all this you are still a cinnamon roll purist, you might want to try my mom's recipe, which you can find by clicking here.  I've never actually made them myself because so far I have been able to get her to make them for me.  Having a mama who will make you cinnamon rolls on request is pretty much as good as it gets.
So in between your next cinnamon rolls, give these cookies a whirl!
Print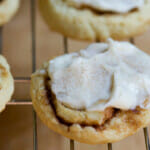 Cinnamon Roll Sugar Cookies
---
Ingredients
Cookies
2 Cups sugar
1 Cup butter, softened
3 eggs
1 teaspoon vanilla
1 Cup sour cream
6 Cups flour
2 teaspoons baking soda
2 teaspoons baking powder
1/4 teaspoon salt
12 tablespoons softened butter, divided into six 2 tablespoon sections
1 1/2 Cups packed light brown sugar, divided into 1/4 Cups
1 1/2 Tablespoons ground cinnamon, divided
Frosting
8 oz softened cream cheese
1/2 Cup powdered sugar
2-4 Tablespoons milk, to thin icing
---
Instructions
Cream the sugar and butter. Add eggs, vanilla and sour cream until well combined. Slowly add in the flour, baking soda, baking powder and salt until well combined.
In 2 batches, place in plastic wrap in a disc shape and chill for at least 2 hours for best results.
Once chilled, cut each disc into thirds and place on a Silpat or parchment paper. Roll into a 1/8 inch thick oval, 10 x 6 inches inches.
Spread each rolled pieces of dough with 2 tablespoons softened butter, 1/4 cup packed brown sugar and 1/4 tablespoon cinnamon. Start rolling from the long end closest to you, rolling the dough into a log shape. Using a sharp knife, cut 1/2 inch pieces of dough then placing onto a silpat or parchment lined baking sheet. Bake at 350 degrees for 9-11 minutes. Cool for 5 minutes before removing from baking sheet.
For the frosting, beat the cream cheese until softened and smooth, and then add powdered sugar and milk until it looks like frosting. Frost cookies then place in refrigerator until ready to serve.