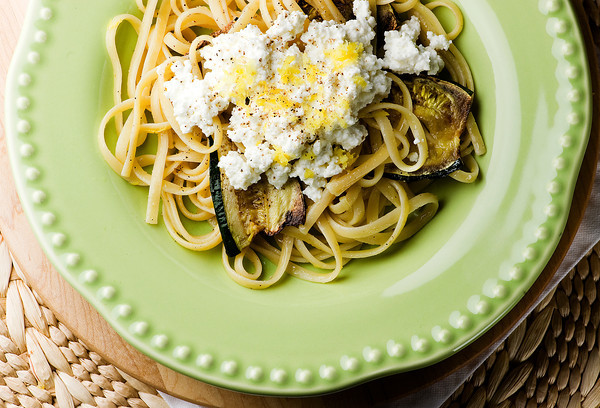 So, how's the zucchini out by you these days?  Here in sultry New Jersey it has us surrounded, which is as good an excuse as any to make this easy pasta dish for supper…and which in turn lets me indulge two of my favorite things to do; using my lethal weapon of a mandoline, and making yet another pot of fresh ricotta.  Neither one of which should scare you off, since you can make this dish perfectly nicely with a regular knife and ricotta from the store, but I'm just saying.
Anyway, slice up your zucchini into nice long strips in whatever way you like to do it, and roasted them with a little olive oil until they are nice and golden and wonderful.  In the meantime, cook up a pot of linguine, and make sure you save a little of the pasta water before you drain it.  (This is a good basic rule in life…a little pasta water can do amazing things for pretty much any pasta sauce that needs just a teeny bit of loosening.)  
Now toss that pasta sauce with a little olive oil and salt and pepper, and then gently stir in some of your roasted zucchini.  Drizzle in a little of the pasta water if you think it needs it.  Top with some ricotta (and if you do want to make your own, click here for my favorite – and quick! – way to make it), and a little lemon zest.  the Southern Husbande!
Take that, zucchini!
Zucchini Pasta with Ricotta, from Everyday Food 
Zucchini Pasta with Ricotta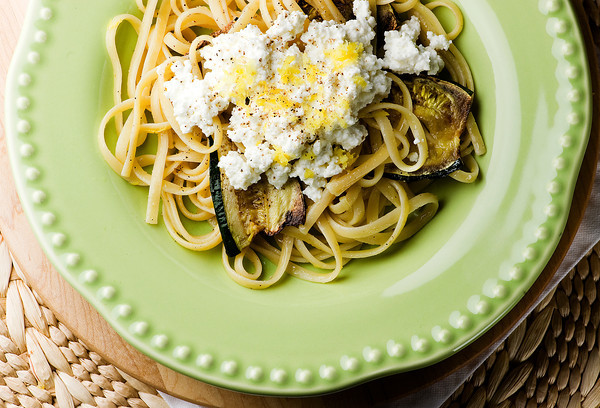 Ingredients
2 tablespoons extra-virgin olive oil, plus more for brushing
2 pounds zucchini, thinly sliced lengthwise
Coarse salt and ground pepper
1 pound linguine
Finely grated zest of 1 lemon
1/2 cup ricotta
Directions
Preheatoven to 450. Brush two rimmed baking sheets with oil. Arrange zucchiniin a single layer on sheets and brush tops with oil; season with saltand pepper. Roast zucchini until tender and lightly golden in parts, 25to 30 minutes, rotating sheets halfway through.
Meanwhile,in a large pot of boiling salted water, cook linguine according topackage instructions. Drain pasta and return to pot. Add oil, lemonzest, and zucchini and toss to combine. Serve pasta topped with ricotta.