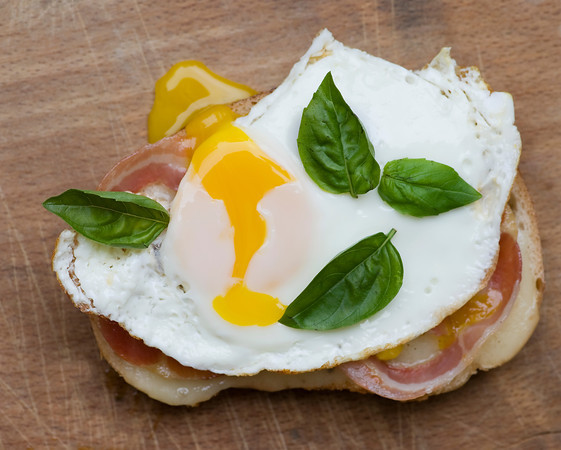 Grilled Provolone, Egg and Pancetta Sandwiches
Ingredients
12 slices of pancetta (Italian bacon), or 4 regular bacon slices cut into thirds
2 tablespoons butter
4 slices sourdough bread
8 thin slices provolone cheese
4 large eggs
Parmesan cheese shavings
12 fresh basil leaves
Directions
1. Cook pancetta or bacon in large nonstick skillet over medium-high heat until crisp. Transfer to paper towels. Reserve skillet with drippings.
2. Melt butter in extra-large nonstick skillet over medium heat. Add 4 bread slices; top each with 2 provolone slices. Sprinkle with black pepper. Cook until cheese melts, 3 to 4 minutes.
3. Meanwhile, heat skillet with drippings over medium heat. Crack eggs into skillet; cook until whites are set but yolks are still runny, 2 to 3 minutes.
4. Set 6 pancetta slices and 2 eggs atop each of 2 cheese toasts. Top eggs with Parmesan, and basil and serve.
Recipe adapted from Bon Appetit [3]