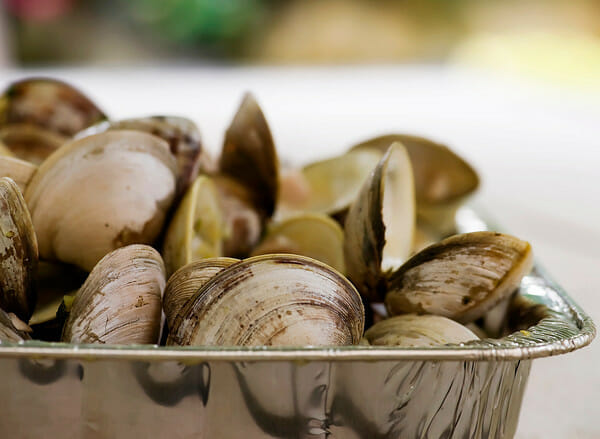 ¼ cup (1/2 stick) butter, room temperature
4 teaspoons minced shallot
1 tablespoon minced fresh parsley
1 tablespoon fresh lemon juice
½ teaspoon minced peeled fresh ginger
½ teaspoon finely grated lemon peel
6½-inch-thick diagonal baguette slices
2 pounds Manila clams, scrubbed
1.Prepare barbecue (high heat). Using spatula, blend butter, minced shallot, minced fresh parsley, fresh lemon juice, minced fresh ginger, and finely grated lemon peel in small bowl; season to taste with salt and pepper. Thinly spread lemon-ginger butter on 1 side of each bread slice. Arrange clams in single layer in disposable aluminum pan. Place pan on grill, cover barbecue, and cook just until clams open, 8 to 10 minutes (discard any clams that do not open).
2. Using slotted spoon, transfer grilled clams to 2 shallow bowls. Grill bread until slightly charred, 1 to 2 minutes per side. Add remaining lemon-ginger butter to juices in pan; stir on grill until melted. Pour juices from pan over clams. Serve with bread.
Recipe from Epicurious [3]