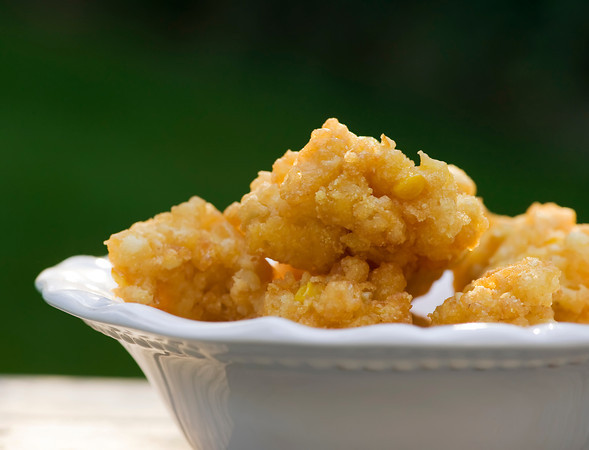 Ingredients
2 large eggs, separated
1/2 teaspoon dark brown sugar
1 1/4 teaspoons salt
6 ears fresh corn, kernels sliced off the cob
2 tablespoons buttermilk
1/2 cup flour
1/2 cup cornmeal
2 teaspoons baking powder
Vegetable oil for frying
Coarse salt
Directions
1. Whisk together egg yolks, brown sugar and 1/2 teaspoon salt. Add the corn and stir to combine.
2. Whisk togethet the hour, cornmeal and baking powder with the remaining salt. Stir into the corn mixture until just combined.
3. Heat 2 inches of oil in a large pot or skillet to 325 degrees.
4. Beat the egg whites until stiff and fold into corn mixture until well combined. Drop batter into the oil by tablespoonfuls and fry for 2-3 minutes per side until golden. Drain on a wire rack set over paper towels. Sprinkle with coarse salt and serve!