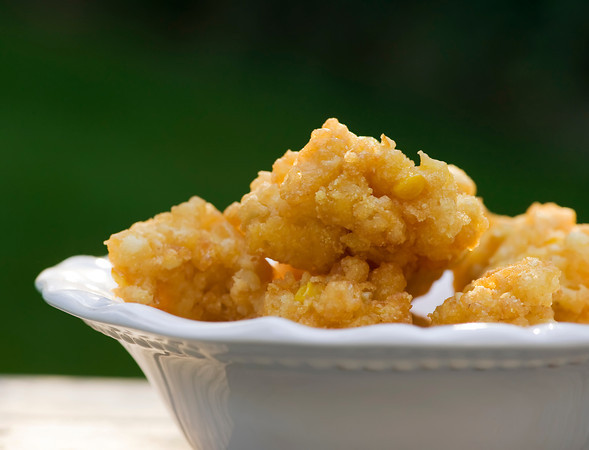 I will pretty much eat anything that is described as a fritter, which basically means something that is held together with a thick batter and deep-fried.  This approach to life got me in deep trouble one summer at the shore when I passed by a deep-fried Oreo stand (a word to the wise, if you must have an Oreo fritter, stop with one.  don'tgo for three.  It will only end in tears.)
Anyway, this recipe, which comes from the wonderful cookbook A SOUTHERLY COURSE, calls these Corn Oysters…I think because they would be a good vegetarian stand-in for fried oysters..but to me they are just dang good corn fritters, made with a classic buttermilk, flour, corn meal and egg batter, mixed up with some fresh corn and, of course, deep fried.  Sometimes you just have to.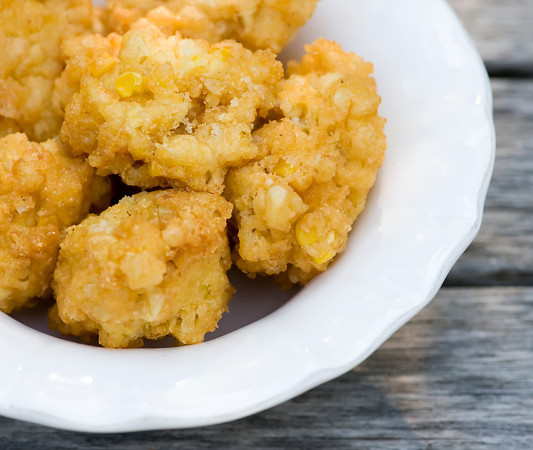 The key with this one is to separate the eggs.  The yolks get mixed into the regular batter, while the white get beaten and folded in at the end.  Somehow this turns the whole thing into a light, golden bundle of fritter heaven.  A little salt sprinkled over the top, and I could forget there was such a thing as an Oreo anywhere on the planet.
Fritters! 



Corn Fritters, adapted from A SOUTHERLY COURSE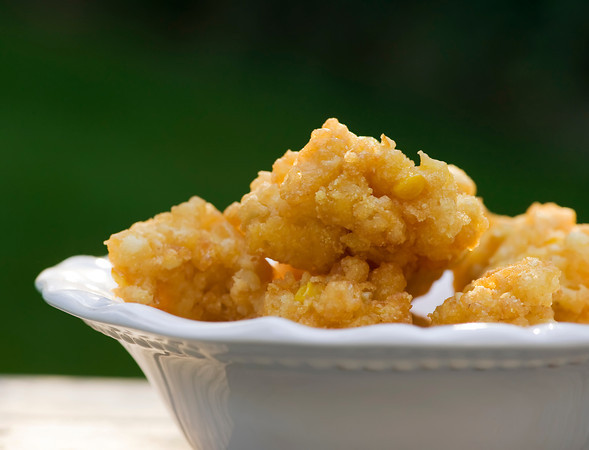 Ingredients
2 large eggs, separated
1/2 teaspoon dark brown sugar
1 1/4 teaspoons salt
6 ears fresh corn, kernels sliced off the cob
2 tablespoons buttermilk
1/2 cup flour
1/2 cup cornmeal
2 teaspoons baking powder
Vegetable oil for frying
Coarse salt
Directions
1. Whisk together egg yolks, brown sugar and 1/2 teaspoon salt. Add the corn and stir to combine.
2. Whisk togethet the hour, cornmeal and baking powder with the remaining salt. Stir into the corn mixture until just combined.
3. Heat 2 inches of oil in a large pot or skillet to 325 degrees.
4. Beat the egg whites until stiff and fold into corn mixture until well combined. Drop batter into the oil by tablespoonfuls and fry for 2-3 minutes per side until golden. Drain on a wire rack set over paper towels. Sprinkle with coarse salt and serve!