Pasta with Sweet Yellow Tomatoes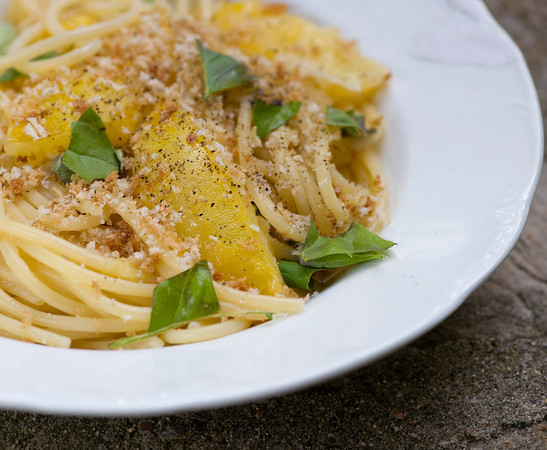 4 slices white bread, stale or lightly toasted
4 Tbsp. extra-virgin olive oil, divided
8 oz. Sun Gold or cherry tomatoes
2 garlic cloves, thinly sliced
¼ tsp. crushed red pepper flakes
Kosher salt
6 oz. capellini, spaghetti, or bucatini
¾ cup finely grated Pecorino or Parmesan
8 medium fresh basil leaves, torn into pieces
Tear bread slices into small pieces. Process in a food processor until coarse crumbs form. Bake in a 350° oven, stirring occasionally, until browned and dry, then transfer hot breadcrumbs to a large bowl. Drizzle with 1 Tbsp. extra-virgin olive oil, season, and toss to coat.
Heat 3 Tbsp. oil in a large skillet over medium heat. Add tomatoes, garlic, and red pepper flakes, season with salt, and cook, covered slightly and swirling pan often, until tomatoes blister and burst, 10-12 minutes. Press down on tomatoes to release their juices. Remove pan from heat and set aside.
Meanwhile, bring 3 quarts water to a boil in a 5-qt. pot. Season with salt; add pasta and cook, stirring occasionally, until about 2 minutes before tender. Drain pasta, reserving 1 cup pasta cooking water.
Transfer pasta to skillet with tomatoes; set over high heat. Add ½ cup pasta water. Cook, stirring and tossing often, until sauce thickens and begins to coat the pasta, about 1 minute. Stir in remaining oil, cheese, and half the basil and toss until sauce coats pasta and pasta is al dente. (Add more pasta water if sauce seems dry.) Add remaining basil, season with salt, and serve with breadcrumbs.
{Please close floating ads before printing.}
---
Article printed from Framed Cooks: http://www.framedcooks.com