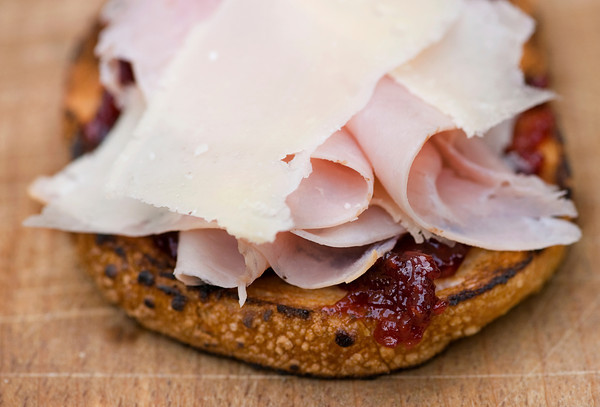 Things that are good to have:
Friends who go to Italy and bring you back giant pieces of incredible parmigiana cheese.  You know who you are, and I love you madly.
2. Jars of Stonewall Kitchen jam.  We've been over this before in previous posts, but it bears repeating.
If you have both of these things, you are halfway to a fabulous sandwich.  And while cheese that has been personally carried through Customs is the best-tasting of all, you can also get a lovely chunk of it at your local deli and it will be almost as good, and then you are still very close to the previously-mentioned fabulous sandwich.
Okay, now that we have that straight, here's what comes next.  Get a nice pile of very thin-sliced ham, and a loaf of sourdough bread.  Lately I have been sending the Southern husband to our local Panera, because let's face it, they make an AWESOME sourdough baguette, and I'm all about the path of least resistance on a Wednesday night.  Slice it on the diagonal in 1/2 inch slices (so that you get nice big slices), and brush both sides with olive oil.  Now comes one of the most critical parts of this sandwich, which is The Grilling Of The Bread.  Every summer I get completely fixated on something grill-wise (last year it was grilled buttermilk rosemary chicken and the summer before it was grilled pizza), and this summer, I am all about grilling bread.  There's something about that slightly charred grill taste that just makes my heart beat faster.  You ARE going to have that moment where you think, is this really worth turning on the grill?  Just to grill a few pieces of bread?
Trust me.  It is.
Once you have your bread all nice and crusty, you are five minutes from heaven.  Slather on some raspberry jam (or cherry, or strawberry.  Anything red is pretty much perfect.)  Layer on some thin-sliced ham, and then some parmesan that you have shaved with your handy vegetable peeler.  Hold it up to your nose and inhale deeply…sweet and salty and slightly grill-smelling, and then open wide and take a crunchy/salty/sweet bite.
My work is done here. 

]
Ham and Parmesan Sandwiches with Raspberry Jam
Ingredients
Sourdough or other hearty bread, sliced ¼ to ½ inch thick
Olive oil
Raspberry jam (cherry and strawberry would also work fine!)
Thin-sliced ham
Parmesan cheese, shaved into thin pieces with a vegetable peeler
Instructions
Heat grill to medium high. Brush both sides of bread with olive oil and grill on both sides until slightly charred.
Spread bread with jam, and then layer on ham and shaved cheese.
Enjoy!!