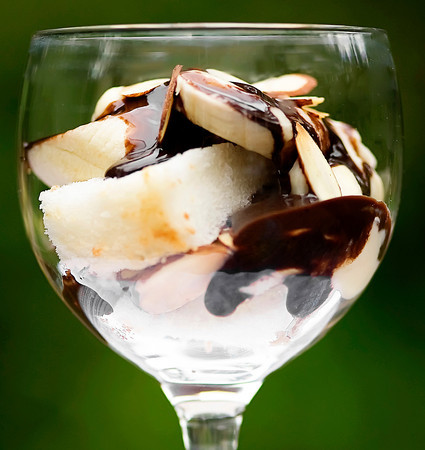 I've noticed over the course of writing over the past few years about this, that and the other ingredient that there are a few things that folks have a particular love and devotion for.   One of those things is bananas.  We do love our bananas!  And what's not to love – they are the perfect, scrumptious, portable, non-sticky/drippy/messy fruit.  (Not that I don't sometimes love peach juice running down my chin.)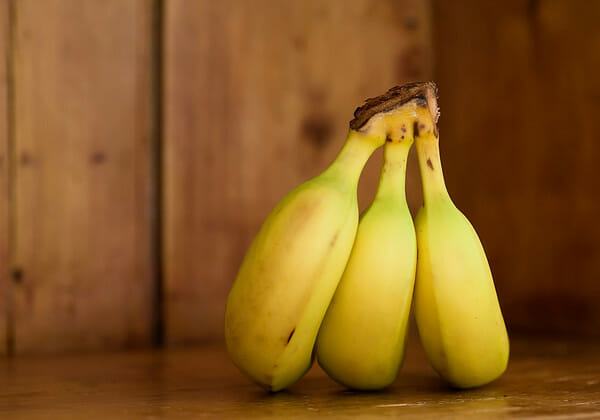 And one of the others is chocolate.  Duh.  So when I run into a recipe that has both chocolate and bananas, I know that soon I'm going to be digging into something good.  It happened to me with the Banana Bites that are still one of my most popular posts EVER, and here we go again…and this time with some angel food cake, a few almonds, some mascarpone cheese, all in a dessert that will take you, oh, about 15 minutes to assemble, and that's if you are going really slow.
Here's the scoop.  Find some pretty wine glasses, the rounder the better.  Now take some angel food cake (the kind you can buy in the bakery section of your supermarket is perfectly fine) and slice it up.  You want the initial slices to be about an inch high, and then trim those into whatever shape will fit nicely into your wine glasses. don'tworry too much about making them pretty and precise, because they are going to be drowned in this.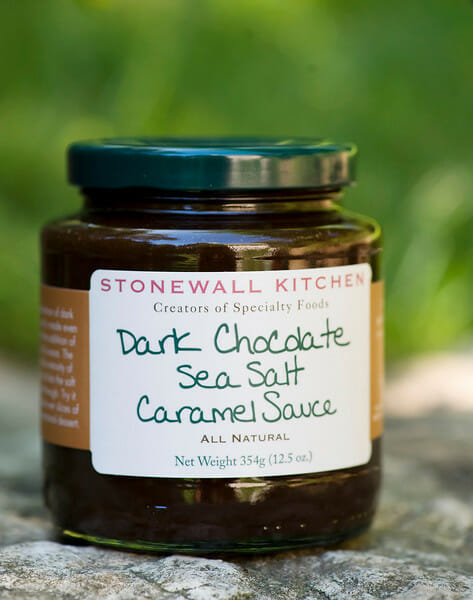 That's my mind-blowingly good favorite chocolate sauce from the mind-blowingly good Stonewall Kitchen, but you use whatever your favorite is.
Next you are going to whip up a mixture of mascarpone cheese (which is like a sweet cream cheese, and you can find it in the supermarket either in the cheese section or sometimes right near the cream cheese), some sugar, a little cream and if you are feeling frisky, a little amaretto.  And here we go!  Drop a piece of cake in the wineglass.  Add in some banana slices, a spoonful of the cheese mixture, some chocolate sauce and a few sliced almonds.  Repeat the layers, ending with the almonds.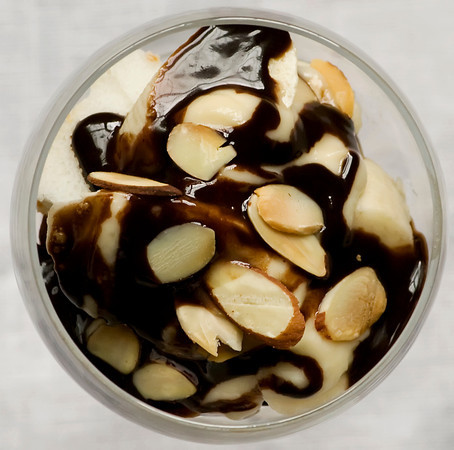 The perfect, perfect ending to that special dinner party.  Or you can go ahead and have it on a regular Tuesday night.  Or both!
 
Print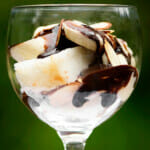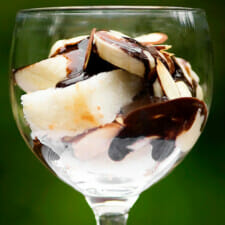 Banana Parfait
---
Yield:

4 servings
Ingredients
Your favorite chocolate sauce
2 tablespoons heavy whipping cream, divided
3/4 cup mascarpone cheese
3 tablespoons amaretto
2 tablespoons sugar
8 1/2-inch-thick angel food cake slices
24 1/3-inch-thick diagonal banana slices (from about 3 bananas)
1/3 cup (about) sliced almonds, toasted
---
Instructions
Whisk mascarpone, amaretto, sugar, and 2 tablespoons cream in medium bowl until blended.
Using 2 1/2-inch-diameter cookie cutter, cut out round from each angel food cake slice, or just cut into irregular pieces – either is fine. Place 1 cake round in each of 4 wine goblets or old-fashioned glasses.
Top each cake round with 3 banana slices, 1 heaping tablespoon mascarpone mixture, bittersweet chocolate sauce, and sprinkling of almonds. Repeat parfait layering 1 more time and serve.
Recipe adapted from Bon Appetit