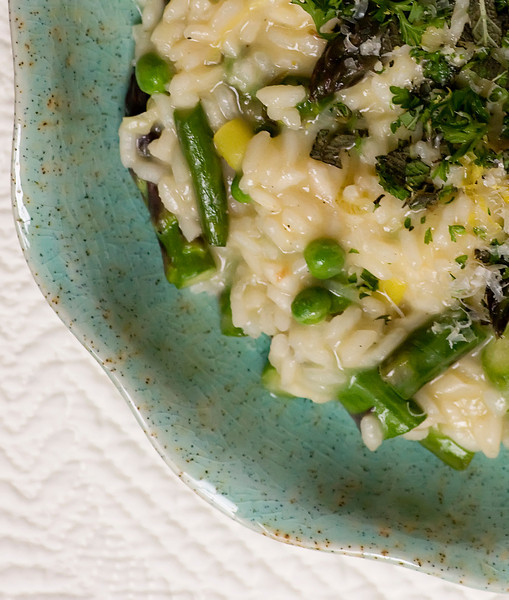 2 tablespoons minced fresh parsley leaves , stems reserved
2 tablespoons minced fresh mint leaves , stems reserved
½ teaspoon finely grated zest from 1 lemon
1 pound asparagus , tough ends snapped off and reserved, spears cut on bias into ½-inch thick pieces
2 medium leeks , white and light green parts halved lengthwise, washed, and sliced thin (about 4 cups), 2 cups roughly chopped greens reserved
4 cups low-sodium chicken broth
3 cups water
5 tablespoons unsalted butter
½ cup frozen peas
2 medium garlic cloves , minced or pressed through garlic press (about 2 teaspoons)
1½ cups Arborio rice
1 cup dry white wine
1½ ounces grated Parmesan cheese (about ¾ cup), plus extra for serving
2 teaspoons juice from 1 lemon
Combine parsley, mint and lemon zest in small bowl and set aside.
Chop tough asparagus ends and leek greens into rough ½-inch pieces. Bring chopped vegetables, reserved parsley and mint stems, broth, and water to boil in large saucepan over high heat. Reduce heat to medium-low, partially cover, and simmer 20 minutes. Strain broth through fine-mesh strainer into medium bowl, pressing on solids to extract as much liquid as possible. Return strained broth to saucepan; cover and set over low heat to keep broth warm.
Heat 1 tablespoon butter in large Dutch oven over medium heat. When foaming subsides, add asparagus spears, pinch of salt, and pepper to taste. Cook, stirring occasionally, until asparagus is crisp-tender, 4 to 6 minutes. Add peas and continue to cook 1 minute. Transfer vegetables to plate and set aside.
Melt 3 tablespoons butter in now-empty Dutch oven over medium heat. When foaming subsides, add leeks, garlic, ½ teaspoon salt, and ½ teaspoon pepper. Cook, stirring occasionally, until leeks are softened, 4 to 5 minutes. Add rice and cook, stirring frequently, until grains are translucent around edges, about 3 minutes. Add wine and cook, stirring frequently, until fully absorbed, 2 to 3 minutes.
When wine is fully absorbed, add 3 cups hot broth to rice. Simmer, stirring every 3 to 4 minutes, until liquid is absorbed and bottom of pan is almost dry, about 12 minutes.
Stir in about ½ cup hot broth and cook, stirring constantly, until absorbed, about 3 minutes; repeat with additional broth 3 or 4 times until rice is al dente. Off heat, stir in remaining tablespoon butter, Parmesan, and lemon juice; gently fold in asparagus and peas. If desired, add up to ¼ cup additional hot broth to loosen texture of risotto. Serve immediately, sprinkling each serving with herb mixture and passing Parmesan separately.
{Please close floating ads before printing.}
---
Article printed from Framed Cooks: http://www.framedcooks.com