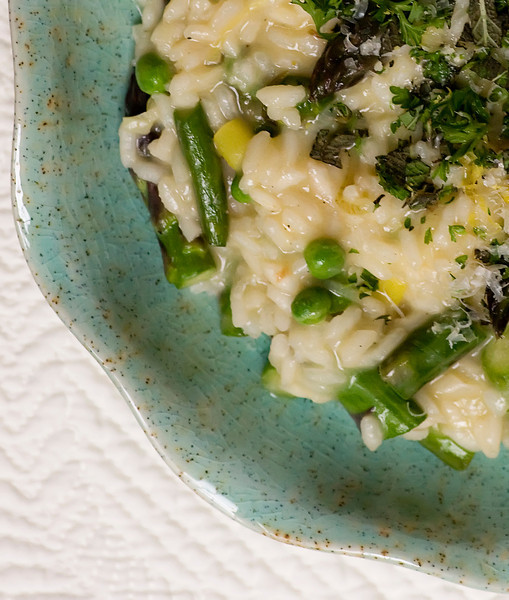 Yes, I realize it is a little late in the year to be posting something called Spring Vegetable Risotto.  I could have completely cheated and changed the title of the recipe to Summer Vegetable Risotto, because honestly, all the wonderful veggies that make up this scrumptious dish are around all summer long, but I have to be straight with you and just admit that I am, well, a little behind in terms of getting my recipes up in a timely manner.    That's what I get for being an obsessive cook!  But truly, you can make this one anytime between April and September and still get the benefit of all the fabulous flavors.  There are peas…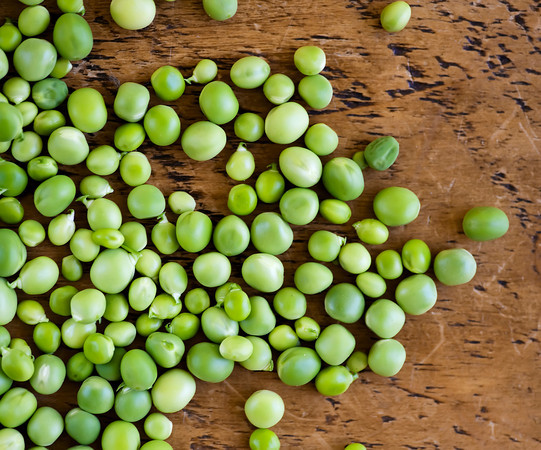 I actually used fresh ones because I had some, but the recipe calls for frozen, so don't worry if you hadn't planned to spend your day shelling peas.  (Full disclosure: the Southern husband shelled the peas.  My honesty continues.)
There's also asparagus…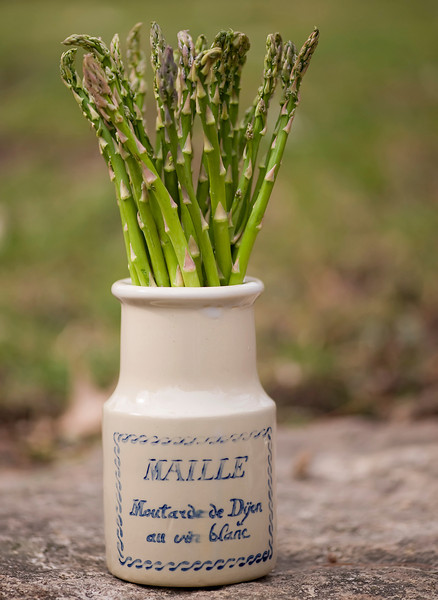 And leeks.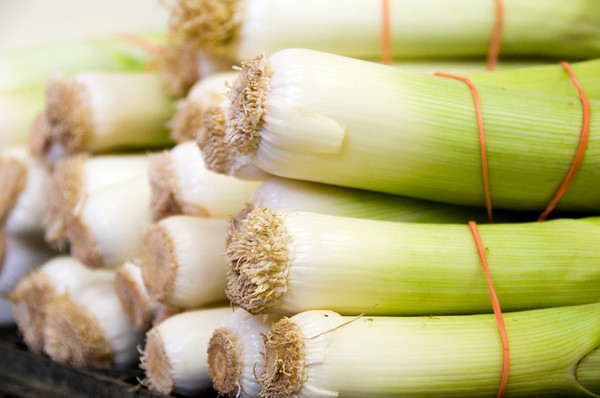 Side note: when I was a kid, either my mom or my grandmother, can't remember which,  had a cookbook entitled First You Take a Leek
.  At the time, my brother and I thought it was the most hysterical thing we had ever heard of, because a) we were probably 9 and 11 years old, and b) because we were pretty sure that my mom/grandmother had no idea what the title REALLY meant.  It's actually still in print, if anyone wants to buy a copy and let their tween-age kids feel superior. 
Anyway, this great risotto comes from the folks at Cooks Illustrated, who figured out that if you simmer some of the vegetable trimmings that you were going to toss out in the chicken broth…the asparagus ends, the tough green ends of the leeks…your risotto is going to taste AMAZING.  And as always, they were totally, perfectly right.  It's one simple extra step that makes a huge difference.
So, you have all summer to try this one…but do try it before the leaves start falling.
Spring Vegetable Risotto, from Cooks illustrated 
Print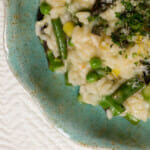 Spring Vegetable Risotto
---
Ingredients
2 tablespoons minced fresh parsley leaves , stems reserved
2 tablespoons minced fresh mint leaves , stems reserved
1/2 teaspoon finely grated zest from 1 lemon
1 pound asparagus , tough ends snapped off and reserved, spears cut on bias into 1/2-inch thick pieces
2 medium leeks , white and light green parts halved lengthwise, washed, and sliced thin (about 4 cups), 2 cups roughly chopped greens reserved
4 cups low-sodium chicken broth
3 cups water
5 tablespoons unsalted butter
1/2 cup frozen peas
2 medium garlic cloves , minced or pressed through garlic press (about 2 teaspoons)
1 1/2 cups Arborio rice
1 cup dry white wine
1 1/2 ounces grated Parmesan cheese (about 3/4 cup), plus extra for serving
2 teaspoons juice from 1 lemon
---
Instructions
Combine parsley, mint and lemon zest in small bowl and set aside.
Chop tough asparagus ends and leek greens into rough 1/2-inch pieces. Bring chopped vegetables, reserved parsley and mint stems, broth, and water to boil in large saucepan over high heat. Reduce heat to medium-low, partially cover, and simmer 20 minutes. Strain broth through fine-mesh strainer into medium bowl, pressing on solids to extract as much liquid as possible. Return strained broth to saucepan; cover and set over low heat to keep broth warm.
Heat 1 tablespoon butter in large Dutch oven over medium heat. When foaming subsides, add asparagus spears, pinch of salt, and pepper to taste. Cook, stirring occasionally, until asparagus is crisp-tender, 4 to 6 minutes. Add peas and continue to cook 1 minute. Transfer vegetables to plate and set aside.
Melt 3 tablespoons butter in now-empty Dutch oven over medium heat. When foaming subsides, add leeks, garlic, 1/2 teaspoon salt, and 1/2 teaspoon pepper. Cook, stirring occasionally, until leeks are softened, 4 to 5 minutes. Add rice and cook, stirring frequently, until grains are translucent around edges, about 3 minutes. Add wine and cook, stirring frequently, until fully absorbed, 2 to 3 minutes.
When wine is fully absorbed, add 3 cups hot broth to rice. Simmer, stirring every 3 to 4 minutes, until liquid is absorbed and bottom of pan is almost dry, about 12 minutes.
Stir in about 1/2 cup hot broth and cook, stirring constantly, until absorbed, about 3 minutes; repeat with additional broth 3 or 4 times until rice is al dente. Off heat, stir in remaining tablespoon butter, Parmesan, and lemon juice; gently fold in asparagus and peas. If desired, add up to 1/4 cup additional hot broth to loosen texture of risotto. Serve immediately, sprinkling each serving with herb mixture and passing Parmesan separately.
SaveSave