Smoked Salmon Silver Dollar Pancakes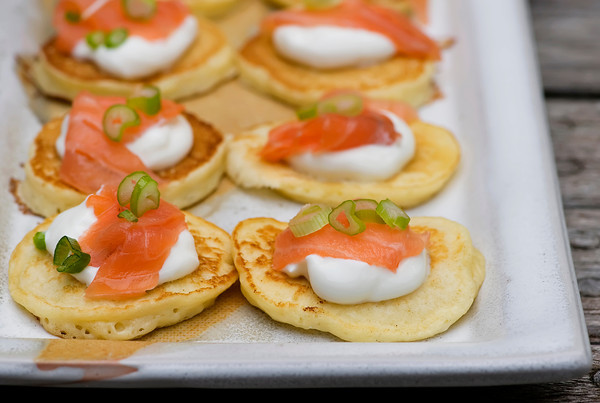 1 cup all purpose flour
1 teaspoon sugar
1½ teaspoons baking powder
¼ teaspoon coarse salt
1 cup whole milk
2 tablespoons unsalted butter, melted
1 large egg
Smoked salmon with sour cream and chopped scallions
Ricotta cheese, fresh thyme and olive oil
Anything else your heart desires!
Whisk together flour, sugar, baking powder and salt.
In separate larger bowl, whisk together milk, melted butter and egg.
Add flour mixture to milk mixture and whisk until just moistened...you will still have a few lumps.
Heat a large nonstick skillet over medium heat, and drop batter by tablespoons (no more!) onto skillet. Cook about 2 minutes until bubbles appear on top and bottom is golden. Flip and cook one minute more.
Cool slightly, then top with a spoonful of sour cream and a little smoked salmon. Sprinkle with chopped scallions.
{Please close floating ads before printing.}
---
Article printed from Framed Cooks: http://www.framedcooks.com