Open Face Sandwiches with Avocado, Egg and Smoked Salmon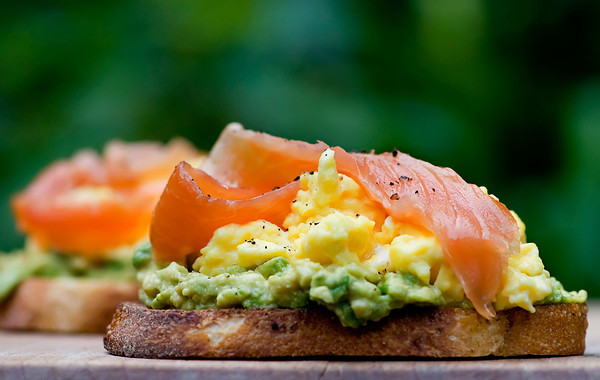 4 slices sourdough bread
Olive oil
1 avocado
Lime juice
2 eggs
Smoked salmon, sliced into strips
Fresh ground pepper
Brush both side of bread with olive oil, and either grill them on both sides or toast them until they are golden brown. Toasting them is easier, but grilling them gives them an out of this world grilled taste.
Mash avocado with a few squeezes of lime juice. Set aside.
Beat the eggs and then scramble them in a skillet over medium heat until they are just set.
Assemble sandwiches as follows: spread avocado over each slice of bread, top with eggs and a strip or two of salmon, and grind a little black pepper over all.
{Please close floating ads before printing.}
---
Article printed from Framed Cooks: http://www.framedcooks.com