Slow Cooker Chicken Tortilla Soup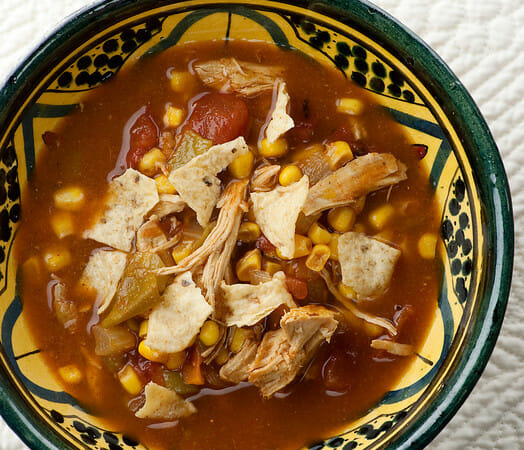 2-3 cups shredded cooked chicken
1 15 ounce can diced tomatoes with juice
1 10 ounce can enchilada sauce
1 medium onion, chopped
1 4 ounce can chopped green chile peppers
2 cloves garlic, minced
2 cups water
1 (14.5 ounce) can chicken broth
1 teaspoon cumin
1 teaspoon chili powder
1 teaspoon salt
¼ teaspoon black pepper
1 bay leaf
2 cups corn (fresh or frozen is okay)
Crumbled tortilla chips
1. Place chicken, tomatoes, enchilada sauce, onion, green chiles, and garlic into a slow cooker.
2. Pour in water and chicken broth and stir in cumin, chili powder, salt, pepper, and bay leaf. Stir in corn.
3. Cover, and cook on Low setting for 6 to 8 hours or on High setting for 3 to 4 hours.
4. To serve, sprinkle tortilla chips over soup...I like to have a bowl of these on the table so everyone can sprinkle their own!
{Please close floating ads before printing.}
---
Article printed from Framed Cooks: http://www.framedcooks.com