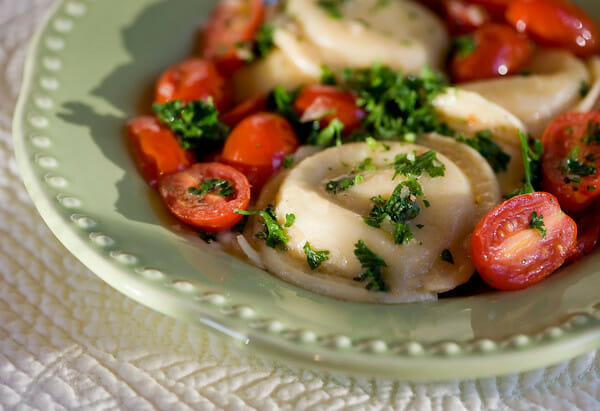 16 to 18 ounces fresh or frozen cheese ravioli
2 tablespoons olive oil
2 shallots, chopped
1 pint grape tomatoes, halved
1 cup dry white wine
kosher salt and black pepper
2 tablespoons unsalted butter
¼ cup chopped fresh flat-leaf parsley
1. Cook the ravioli according to the package directions, drain, and return them to the pot.
2. Meanwhile, heat the oil in a large skillet over medium heat. Add the shallots and cook, stirring occasionally, until tender, 3 to 5 minutes.
3. Add the tomatoes, wine, ½ teaspoon salt, and ¼ teaspoon pepper and simmer until the tomatoes begin to soften, 4 to 5 minutes. Add butter and stir until it is melted into the sauce.
4. Gently toss the ravioli with the tomato mixture and parsley.
Recipe adapted from Real Simple [3]