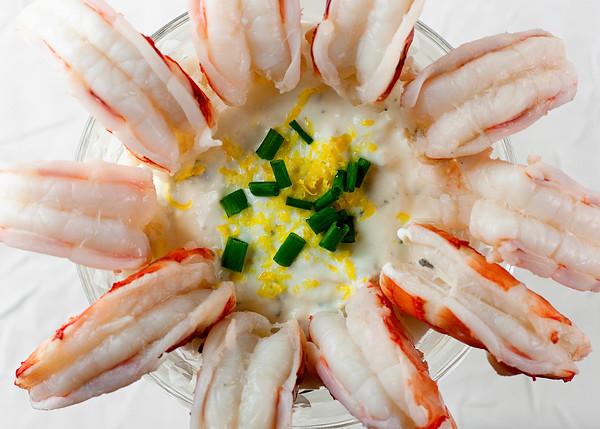 Okay, so here's the latest in the Friday Night Lights series, and let me just say that anything that involves shrimp and horseradish has me at hello.  This is basically a spin on that shrimp cocktail that you secretly yearn to order at every restaurant you go do but don't because it costs as much as your mortgage payment.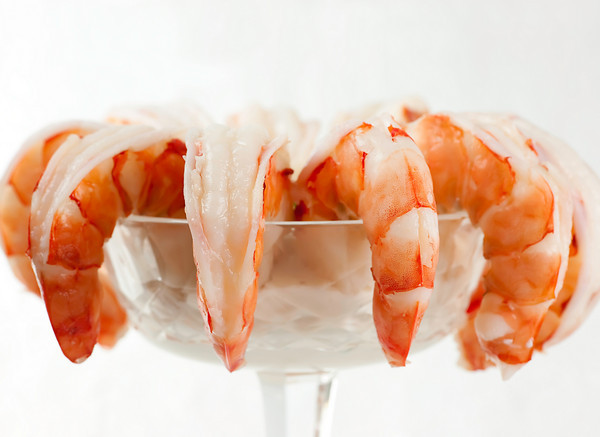 But this one is so, so much more than a shrimp cocktail, and it is all due to the sauce, which is not the typical tomato/horseradish variety, but instead is a mixture of sour cream, horseradish, chopped chives, lemon peel and (get this) a reduction of the lemon white wine mixture that you have cooked the shrimp in.  Wildly luxurious-sounding, right?  It almost doesn't seem fair that it is so dang easy to make, but it is!  
You poach the shrimp for about four minutes in a mixture of water, white wine, half of a lemon and a few other things.  Scoop out the shrimp and put them in an ice water bath to chill down, and then boil the poaching liquid down for about 20 minutes.  In the meantime you can mix up the rest of the sauce, which is a sour cream/horseradish/lemon peel/chives mixture that gets thinned out with a tablespoon or two of the poaching liquid.  After that, the only thing left to do is find some pretty glasses, spoon some of the sauce in the middle, hang as many shrimp as you can fit around the edge, and try not to scarf them down TOO fast.
Yum, right?  And elegant too.  Even if you ARE eating them while lounging on your couch watching a taped version of House.  I mean Glee.  I mean Nurse Jackie.  You get the drift!
Poached Shrimp with Sour Cream Horseradish Dipping Sauce, adapted from Bon Appetit 
Poached Shrimp with Sour Cream Horseradish Dipping Sauce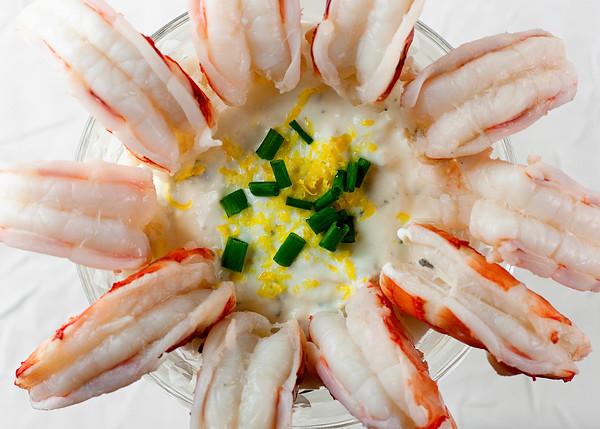 Ingredients
1 cup dry white wine
6 whole black peppercorns
1/2 lemon
1 bay leaf
Pinch of coarse kosher salt
8 uncooked unpeeled large shrimp
dipping sauce
1/4 cup crème fraîche or sour cream
1 tablespoon chopped fresh chives
1 teaspoon prepared white horseradish
1/2 teaspoon finely grated lemon peel
Coarse kosher salt
Whole fresh chives (for garnish)
Directions
1. Fill medium bowl with ice water; set aside. Combine 2 cups water, wine, and next 4 ingredients in medium saucepan. Bring to boil. Add shrimp; reduce heat to low, cover, and poach just until shells are pink and shrimp are opaque in center, 3 to 4 minutes. 2. Using slotted spoon, transfer shrimp to bowl with ice water; reserve poaching liquid and lemon half. Drain and peel shrimp, leaving tails intact. Devein shrimp.
3. Squeeze juice from reserved lemon half into poaching liquid in pan. Boil liquid until reduced to generous 2 tablespoons, about 20 minutes. Strain; cool.
4. Mix sour cream or crème fraîche, chopped chives, horseradish, lemon peel, and 1 tablespoon reduced poaching liquid in small bowl. Season sauce with coarse salt and black pepper.
4. Spoon dipping sauce into short glasses. Arrange shrimp on rims. Garnish with whole fresh chives and extra lemon peel if you have it.