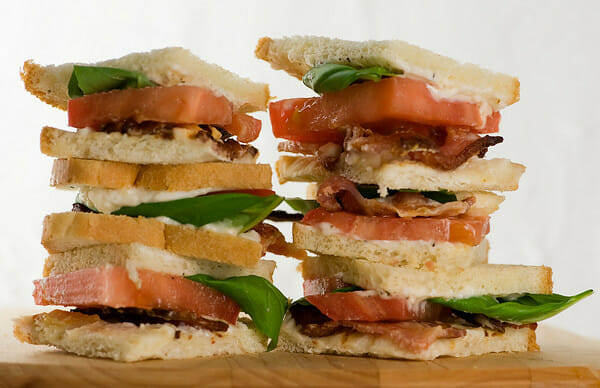 9 slices bacon, cooked and halved
½ cup shredded Parmesan cheese
⅓ cup mayonnaise
1 garlic clove, minced
9 slices extra-thin white bread slices
3 plum tomatoes, sliced
12 fresh basil leaves
1. Stir together cheese, mayonnaise, and garlic. Spread mayonnaise mixture evenly onto 1 side of each bread slice.
2. Layer 3 bread slices, mayonnaise sides up, with 3 bacon slices each. Top bacon evenly with 1 bread slice, tomato slices, and basil.
3. Top each with remaining bread slices, mayonnaise sides down. Cut each sandwich into quarters.
Recipe adapted from Southern Living [3]