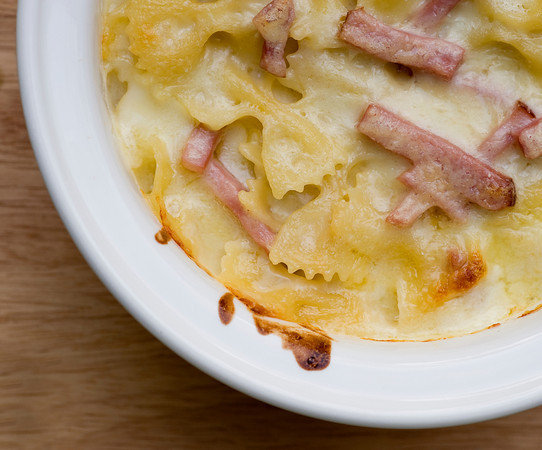 Ingredients
8 ounces bowtie pasta, cooked and drained
1/2 stick butter
1/4 cup flour
1/4 teaspoon fresh ground pepper
2 cups whole milk
1 1/2 cup shredded cheddar cheese
4-6 ounces cubed cooked ham
1/4 cup shredded Parmesan cheese
Directions
1. Melt butter in a large saucepan over medium heat. Whisk in flour and pepper until smooth. Whisk in milk and bring to a boil. Add cheddar and stir until melted.
2. Turn off heat and stir in cooked pasta and ham.
3. Transfer to greased baking dish and scatter parmesan on top.
4. Bake at 350 for 20 minutes. Let cool for 5 minutes and serve.
Recipe adapted from  Allrecipes.com [2]